Veteran needlecraft artist Indumathie Paranavithana will once again present her artistry in 'Stitch Fantasy' an exhibition of needlecraft to be held from February 25 - 27 at the Nivana Hall, Gampaha and from March 4-6 at Devon Rest, Kandy.
This time around Indumathie introduces 'stylish embroidery' another form of embroidery along with her usual creations with eyelet, ribbon, Brazilian, hardanger embroidery etc as well as cross stitch, paper quilling, black work, pergamano creations among others.
An exhibition of the many books on embroidery she has written will also be on display.
Chocolate, music and a night of Cioccorossopassione
By Nedra Wickremasinghe
What do you get when you mix chocolate, and all things red the colour of passion? An affair with chocolate. But what happens when you combine the chocolate affair with music by Italian guitar virtuoso? Cioccorossopassione.
Celebrating Italian culture in a different theme, musicians and music enthusiasts came to the Mount Lavinia Hotel to listen to Italian guitar virtuoso Fabio Federico perform his magic on the guitar.
Strumming without a pick, Fabio played the classical pieces effortlessly with exuberance and such superb technical interpretation that won him a standing ovation. Specializing in the guitar repertoire of the 19th and 20th centuries he has been recognized as the one of the most interesting talents on the international guitar scene.
The concert was followed by pre-dinner cocktails serving only red Lambrusco, and thereafter, Chef Rizzolli from Italy served a dinner that paired off well with chocolate and red. Most unusual was the pumpkin risotto sprinkled with nuttela amaretti and with a drizzle of Italian ferro chocolate.
The lamb chops with balsamic vinegar reduction too had a touch of red with pomegranate, and so did the sole fish fillet Siciliana with tomato relish. Chocolate afficianados had a treat with the desserts of chocolate lava cake with Rocher heart.
An evening of theatre, music and fine dining for Kalalaya
It's hard to imagine anything topping Koluu turned out in full drag, but the menu at Kalalaya fundraiser came close. 'My Funny Valentine' an evening of theatre, music and fine fusion dining at the Cinnamon Grand was dedicated to raising funds for one of the country's better known schools of dance, music and drama.
The Kalalaya School of Dance and Music was founded by the Sri Lanka Tamil Women's Union in 1948. At that time Lady Nesamani Coomaraswamy was President and the school was dedicated to the study of the performing arts. The union constructed its building on a plot of land off Bullers Road in 1952.
In later years, first a prefabricated structure (donated by the Australian Government) was put up and then thanks to the generosity displayed by the likes of the Indian Government, the Arts Council of Ceylon and the general public, the Kalalaya building was constructed.
The school would have its name associated with many a prestigious event in the decades that followed. Performers from the school participated in a gala performance for Queen Elizabeth 11 of England in 1954 during her visit to Sri Lanka. In the same year, they entertained Prime Minister Jawaharlal Nehru of India and Sastromidjojo of Indonesia who were in Colombo to attend the Non Aligned Conference.
Today, the Kalalaya halls and building continue to host a new generation of students even as they serve as headquarters for the union and as a nerve centre of its cultural and social services activities. However, after five decades, the buildings are in urgent need of renovation and refurbishment. In addition, the union hopes to build additional classrooms to accommodate more students.
A drive to raise funds is underway and 'My Funny Valentine' brought fans of Indu Dharmasena out in full force. Every table was tastefully decorated in shades of red and orange, and the night's meal boasted some lush, fusion dishes, distinguished by a range of unusual flavours.
Venthaya Kozhambu sauce served with potato bonda and tamarind scented chicken breast on Malabar avial were among the main courses, with jakfruit fudge and soursop ice cream for dessert. Live classical Indian music produced by two musicians provided a fine accompaniment to the evening's festivities.
Dishes fit for a Mughal emperor
By Smirit Daniel
When we walk into Navaratna, at the Taj Hotel on a Saturday night, it is to find the place hopping. Tables fill up and empty; only to fill up again as we linger over our meal. Live music played by a group of musicians seated near the entrance adds to the ambience, as does a larger than life painting of the coronation of a Mughal Emperor on one wall.
Chef Chauhan will tell you that the Punjabi cuisine he specialises in was born when the abundance of his native fields was harvested by the invading Mughals in 16th century India. Fit for the banquet table of an Emperor, these butter and cream laced curries, succulent kebabs, subtly flavoured breads and fully flavoured biryanis are now favourites the world over.
The ingredients are distinctive – garam masala, saffron, kashmiri chilli powder and black sesame are among those you will find lining the chef's shelves and he says he places the highest emphasis on quality ingredients.
Looking through the menu, I'm intrigued by several unusual dishes. There's a Tandoori Lobster (Rs.2950) that is apparently the Chef's signature dish and Crab Simla Mirchi (Rs.975) that I have never eaten before.
The vegetarian menu offers its own unique dishes – simmered jakfruit and lotus stem make an appearance – but there are also those classic dishes that I grew up loving. Chargrilled eggplant with onions and tomatoes make up a Punjabi speciality known as Baigan ka Bharta and Palak Paneer, another universal favourite which brings spinach and cottage cheese together into perfect harmony is also available. Both are priced at Rs. 675.
When he comes by our table, Chef Chauhan is in fine form, and recommends we begin with a platter of Kebabb-e-dawat (Rs.1995). Three portions of prawn, minced meat and luscious chunks of chicken, fresh from the tandoor oven, are served on sizzlers. In the Kebab-e-tastari (Rs.1225), an all vegetarian version, I spot what I think are Moong Ki Golai made up of green moong dal and Bhuna Paneer Tikka.
In the meal that follows, we are given the chance to sample a variety of dishes.
We taste the Jhennga Malai Curry (Rs. 1750) which consists of lovely, firm prawns cooked in a rich curry and the Gosht Rizzala (Rs.825) which my husband says reaffirms his belief that Indians are masters of cooking mutton. The meat is so tender; it practically melts in the mouth, and along with a helping of Paneer Makhani (Rs. 675) we are spoilt for choice. In my opinion, all three curries are best sampled with a butter or garlic naans or roomali roti. As assorted bread basket (Rs. 525) at the restaurant will let you have your pick.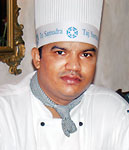 Chef Chauhan
Perhaps because I was looking forward to it so much, when the Murgh Jaffrani Biryani (Rs.825) comes, I am more impressed with how it looks than how it tastes. It is made in the dum style, with a hard seal made of flour allowing the meat and rice inside to simmer in their juices. Perhaps the prawn version (Rs.925) may have gone down better. Fortunately, having been plied with so much food and drink, we are far from hungry. To finish there's a helping of sweet juicy Gulab Jamun (Rs. 425), swimming in syrup and creamy Malai Kulfi (Rs.425).
Later on, we are told that Chef Chauhan comes from a large family and that many of his earliest recipes were gleaned from his mother. Despite having travelled widely as a chef, he still says that nothing compares to the food that comes from her kitchen. But notwithstanding a trip to Punjab, this might be one of your better options.
It's buzz time in the design world
The Geoffrey Bawa Trust Award for Excellence in Architecture is underway
Recognising and encouraging superlative standards of architecture, the Geoffrey Bawa Trust Award for Excellence in Architecture is underway for the second time. Awarded once every three years, judges go through a meticulous process of whittling down entries into a shortlist of eight.
This year the architects who've been selected include Yudish Ganesan, Sheran Henry Associates- with two entries, Palinda Kannangara, Santha Liyanage, Thisara Thanapathy- with two entries, and Richard Murphy Architects. Architect Yudish Ganesan's design is the Udayapuram School in Periyakallar, Kallar, Batticaloa. Working within a budget set by the Rotary Club and the guidelines set by the Ministry of Education, the design is simple yet remarkable.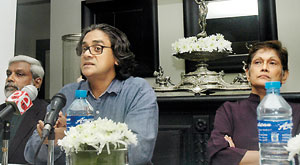 Channa Daswatte addressing the news conference with architect Jayantha Perera and Sunethra Bandaranaike
The two entries by Sheran Henry Associates include the Tsunami Housing scheme in Kalutara and the Lion Museum in Biyagama. Distinctive in both designs is the resourceful use of space.
Architect Palinda Kannangara's exquisite design of a Holiday Bungalow in Avissawella was selected for its blending with the environment and its floating feel.
Architect Sanath Liyanage's design of the Kalundewa Retreat in Dambulla, impressed the judges with its minimalistic style. The British New High Commission was also selected - designed by Richard Murphy Architects, Scotland, UK. The High Commission eased into the list with its pleasant working environment, for its flexibility in allowing future changes and its security of the building.
The other double entry, which is by Architect Thisara Thanapathy, includes the Sarath Abeyrathne House in Colombo 5 and a Holiday Bungalow in Ulpatha, Matala. Both buildings have a calm relaxed feel.
The eight entries were selected by judges Suhanya Raffel, Trustee, Geoffrey Bawa Trust, Deputy Director, Curatorial and Collection Development at the Queensland Art Gallery, Brisbane Australia. Kerry Hill, a leading architect in Asia and winner of several awards including the Aga Khan Award for Architecture in 2001, Ajita de Costa, a Chartered Textile Technologist by profession and also the Chairman of the Heritage Foundation for the Environment and Art, Architect Jayantha Perera FIA(SL), Past President of the Sri Lanka Institute of Architects ( 2008 –2009 ), Archt. Channa Daswatte and Archt. C. Anjalendran.
In the approaching weeks, the shortlisted buildings will be visited and undergo further scrutiny before the best among them is selected for the prestigious award.