If you like a festival strongly enough, and all that goes with it, including its neighbourhood, you may well end up living in that very neighbourhood.
In Germany, there resides a French couple who love the operas of Richard Wagner so passionately that they bought a house in Bayreuth in order to be close to the spirit of Wagner, and the annual Bayreuth Festival dedicated to performing Wagner operas.
(Of course, there could be dozens of other Wagnerite couples from all over the world who have moved to Bayreuth for the same reason.) Here, in Sri Lanka, there is a Sri Lankan national whose decision to settle with his family in Galle was largely prompted by his regular attendance at the annual Galle Literary Festival. He has been to all five Galle Lit Festivals so far, starting in 2007, and it was during the second festival that he decided Galle was the place for him and his family.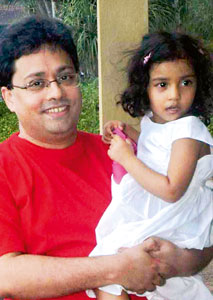 Investment writer Graeme Pietersz with his younger daughter Nisha, at the Jetwing Lighthouse. Pic by Saman Kariyawasam
"I knew little or nothing about Galle, as I had been away from Sri Lanka most of my life," said Graeme Pietersz, an investment writer. "But these visits to the annual book fair opened my eyes to what a congenial town Galle is - I liked what I saw."
Graeme, who works for the UK-based finance website moneyterms, moved to England when he was six years old and returned to live in Sri Lanka eight years ago. Galle has much to offer the Pietersz family.
"We moved here because we wanted to get away from Colombo, which can be noisy and dusty, while London, where I mostly lived before, is far too expensive," he said. "And we loved what we had seen of Galle at the literary festival.
"We moved here two-and-a-half years ago. We live a couple of kilometres inland. Someone cut a tree recently, so I have a clear view from my home of the Jetwing Lighthouse hotel, where many of the literary festival events are held.
"The two biggest reasons for leaving Colombo were traffic and the cost of living. We wasted an hour a day on the roads in Colombo. I work from home, but we still have to take the children to school, and travel around for other things.
"Here in Galle the air is noticeably cleaner. We get sick less often. We spend less on rent, school fees, food, and key expenses. The only drawback is that Galle is a difficult place to make friends compared to Colombo or London. People here are very helpful and friendly, but very few of them really become friends. What I miss here are family and friends. I am used to that. I have far more friends in Britain than in Sri Lanka anyway."
The Pietersz family has enthusiastically, even determinedly, adapted to Galle. "I have two daughters, Lucy and Nisha, and Lucy, my older daughter, says she will not go to school if we move back to Colombo. She goes to the Thomas Gall International School, which is inside the Galle Fort - the Galle Fort that has become internationally famous because of the literary festival."
The Pietersz family owes its new life in Galle to Graeme's love for books, the original reason for their being in the southern coastal town. Graeme says Galle gives him more time for reading. "For one thing, the time we save on the road in Colombo gives me extra hours for books!"
He was full of the festival that had just ended with a session featuring Jung Chang and John Halliday, authors of a controversial anti-Mao biography. He had greatly enjoyed the couple's sizzling demonstration of how to fry the Founder of Modern China to a crisp.
Graeme, who reads widely - from Jane Austen to Noam Chomsky, Ursula Le Guin, Iain Banks and R. K. Narayan - was disappointed that this year's festival was blighted by a boycott call to writers. Some of the writers slotted for the Galle festival had stayed away, presumably heeding the call from a Paris-based group of media freedom activists.
"I can't understand why Noam Chomsky, an incredibly learned man, would have signed the boycott request. Clearly, he hadn't studied the real situation and what the Galle Literary Festival is about, which is to promote good writing. To stop writers from coming to Sri Lanka to speak at a literary festival is to do harm, not good, to writers in general and the writing vocation. And it's unfair by readers who come to hear the writers."
Graeme is a loyal fan of the Galle festival, and has enjoyed all five rounds. "The first, in 2007, was the most exciting, but I have enjoyed every one. This time I did two superb writing workshops, given by William Fiennes and Jill Dawson."
Every time Graeme looks out from his home and sees the Jetwing Lighthouse in the distance, he must wonder what fresh literary excitements await at the next Galle Literary Festival.