Defending Badminton National Champion, Achini Rathnasiri overcame a spirited challenge from Kavini Ishadika to collect a 19-21, 21-13, 21-17 semi final victory, in the 58th Nationals, held at the Royal College sports complex yesterday.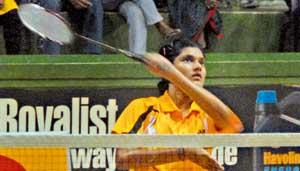 Defending Champion Achini Rathnasiri in action. Pic by Sanka Vidanagama.
Achini had to dig deep to recover from being a game down against a tenacious opponent who kept things tight right up until the end. During the early exchanges Kavini was playing aggressive, moving her opponent all around the court before finishing with athletic and emphatic swipes.
The fourth seeded Kavini refused to relent with her barrage of powerful strokes and before long she had the first game in the bag. Achini, however, is the tournament's champion for a reason, and she quickly changed her strategy, adopting deft flicks over the net that constantly moved Ishadika and within a blink of an eye the match had turned on its head.
The sting had been taken out of Kavini's onslaught and before long the game was reeled into Achini's possession. As the third game began, the momentum seemed firmly in Achini's corner and she hit the ground running, slapping the shuttlecock to all corners of the court in an attempt to move her opponent.
It worked initially but as the game progressed Kavini was playing even more inspired badminton, dishing out athletic leaps and near impossible shots to win each of her points. At 7-7, Achini forced Kavini to dig the shuttlecock out of the corner of the court but not with enough height to clear the net. She slapped the shuttlecock into the net once more to give her opponent another free point.
However Kavini fought back to make it 13-13 and continued to stay close, but Achini upped her game once more, shutting the door with a final forceful winner to take the match and book herself a place in today's final.
She will face Chandrika De Silva, the tournament's top seed, who brushed past Thilni Jayasinghe, to enforce a repeat of last year's final. The men's final today will be between top seeded Dinuka Karunarathne and Eranga Fernando, an unseeded shuttler. Matches begin at 2.00pm, at the Royal College sports complex.