Trinity rugby came in for severe criticism from Trinity's sporting legend Mahinda Ratwatte during an interview with the Sunday Times. Mahinda captained the Trinity rugby, cricket and boxing teams with tremendous success and was later a president of the Sri Lanka Rugby Football Union. He was also an acclaimed drop-kick specialist for Dimbula, Dickoya, Kandy and Uva.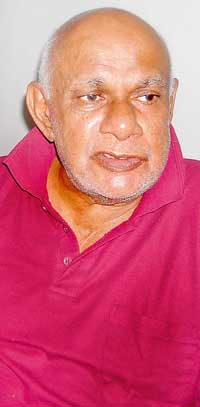 Mahinda Ratwatte
In contrast he praised the Royal team, Trinity's Bradby Shield rivals. "There is a lot of unity amongst the Royalists. Their rugby has improved by leaps and bounds and the Old Boys support them to the hilt," he observed.
He was also highly critical of Trinity's decision to bring in Namal Rajapaksa as chief guest for the Kandy leg of the Bradby Shield last year. "This move broke all traditions. It is normally an Old Trinitian who is the chief guest," he pointed out. He also cited the incident when Lakshman Kadirgamar organized the Bradby Dinner in Kandy, the only one to be organized by Trinity so far, it was an all Trinity rugby greats affair.
"St. Peter's, Royal, Kingswood, Isipathana and St. Anthony's Katugastota play first class rugby. This is due to the fact that they know their basics. These teams tackle low and play clean and hard," stated Ratwatte.
He also said that he has extended sports scholarships to St. Anthony's, Kingswood and Hillwood to inculcate in them the value of sports. If Mahinda has any misgivings it is that he was never awarded the coveted Trinity Lion even though he captained three Trinity teams.
"This was denied to me. The people who were in favour of giving this award to me – Principal N.S. Walter and Vice Principal Gordon Burrows – were out of the country at that time. Vice Principal G.Y. Sahayam was in charge, but the decision was made by somebody else and I never got this award."
The interview held at his residence in Etul Kotte, Kotte, took longer than expected. It ranged from boxing, hockey, rugby to cricket and then to the Ratwatte clan who had dominated in these sports.
"I loved hockey at school but I was not fortunate to continue the game after captaining the Under 15 team, because my Principal wanted me to play cricket," he lamented.
He spoke in admiring terms of the Royal-Trinity boxing meet held in Colombo this year after 50 years where he was the Guest of Honour and Royal's Tony Anghie was the Chief Guest. Royal won the meet easily and Trinity have already drawn up plans to have the 'return' 51st meet on a grand scale in Kandy next year. "Trinity boxers had very little contact. The new rules too were baffling. There were five judges and all judging was by computers," said Ratwatte.
Then he recollected the performances of rugby player and boxer Raja Sumanasekera, who rose to fame as Havelocks fly-half, Lal de Silva (Boxing Lion), Emil Vanderpoorten, Yen Foo Paxton, Sydney, Tilak and his youngest brother Anil Ratwatte.
Anil Ratwatte was a stylish bat for Trinity in the 60's and played under Harinda Dunuwille. Later he captained the Police cricket XI. He now resides in Canada. Mahinda captained three Trinity teams in three different years. His skill as a boxer enabled him to captain the Trinity boxing team in 1953. Then he captained the Trinity rugby team in 1955 and led the Trinity cricket XI in 1956. As the skipper of the Trinity rugby team he had a successful season defeating St. Peter's, St. Joseph's, S. Thomas', Medical College, CR 'Bees' and Royal in the Bradby Shield encounters in the two games against Royal.
Coached by H.A. Hardy, Trinity had produced excellent players such as Nimal Maralanda, Gamini Weerasinghe, Mike de Alwis, Sena de Sylva, David Frank, Rodney Frank, Raji de Sylva, Franklyn Jacob, Wilhelm Balthazaar, Ken de Joodt, Vernon Boteju, M.U. Odayar, Ananda Pilimatalawa, Eshin Fernando, Farouk Omar, Sena Ettipola, Neil de Soysa and Lakdasa Moonemalle.
Royal was led by C.V. 'Puggy' Gooneratne that year. According to Mahinda, Ken de Joodt, who captained Trinity in a later year, had been a one of the finest players he had played with and coached.
In cricket too Mahinda has carved a niche for himself. He recalls his knocks against Matale SC (87), against Ananda (48) and 47 against St. Anthony's. Then representing the Kandy Schools against Colombo Schools in 1954 at St. Anthony's Grounds, Katugastota he had scored 45 and had taken five wickets and was adjudged the best all-rounder. In 1956 Mahinda had captained the Trinity team against the Australian Test team which had Neil Hawke and also played against India and Pakistan in a triangular competition which had the cream of cricketers at that time.
Mahinda has been a tea-planter and has risen to be senior manager, joined the Volunteer Force and ended up as Commanding Officer of 3 (V) Sinha Regiment. He was ADC to President William Gopallawa and Personal Aide to Mrs. Sirimavo Bandaranaike. He had also visited the USSR on two different occasions on matters pertaining to the Tea Industry. These were in 1976 and 1977 and he has been instrumental in getting the Dilmah tea deal to Sri Lanka.
Mahinda is very proud of the Ratwatte clan who had done yeoman service in sports. He spoke in admiring terms of Seneviratne Ratwatte,William Ratwatte (Barrister-of-Law). P.B. Ratwatte (Rate Mahattaya), Alfred Ratwatte, Naresh Ratwatte, Henry Ratwatte, Reggie Ratwatte, M.B. Ratwatte, Sydney Ratwatte, Roland, Asoka, Alfred, Hector and Tilak, T.B. Ratwatte (Diyawadana Nilame), M.B.Ratwatte and his close kinsmen Mrs. Dullewa and Hugh Mollegoda. According to Mahinda, Denzil Kobbekaduwa's grandfather is Henry Ratwatte.
As president of the SLRFU he had been responsible of getting a host of top level rugby teams to visit Sri Lanka. "When I took over as president, the SLRFU coffers were empty. Getting down these had helped the Union to stabilize their funds. "We managed to help all the clubs and re-started rugby in Kelani Valley. Special mention must be made of Air Marshall Harry Goonetilleke, Gamini Fernando and Rudra Rajasingham who helped the Union."
In conclusion Mahinda said that there is a Buddhist school close to Asgiriya, the Trinity Grounds, who have no ground facilities."Trinity should consider allowing these boys to share the grounds," was his parting shot.