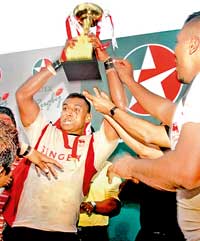 Sean Wijesinghe lifts the League Rugby Cup when he led Kandy SC to the title.
Former Trinitian and Kandy SC player Sean Wijesinghe represented the Sri Lankan side as a senior player at the launching ceremony of the Asian 5 Nations tournament which is sponsored by the HSBC.
Sean Wijesinghe represented Trinity College Kandy in 2000-2001 under David Luchow and Thisal Jayawardena.
Sean started his club rugby career with the champion Kandy Sports Club from 2001 to date being an automatic choice for the national selection since then. He is more suited for the longer version of the game.
Speaking to the Sunday Times Sean said I am representing the country as a senior player from Sri Lanka for this launching ceremony. I have always given my best to the country in XV and sevens is not my cup of tea.
We will get a coach very soon and resuming practices very shortly with the pool of 63 players.
Sri Lanka will take on Gulf and Hong Kong on home soil before flying to Kazakhstan and Japan. Sri Lanka will need to be placed atleast 4th out of 5 to remain in the top division. The local Inter club season will resume soon after the Five Nations tournament.