There have been quite a few left arm seamers that South Asia have produced during the last one hundred years, but if one pops the question who have been the most successful down the line, many a pundit would prune the number down to just two --- Wasim Akram from Pakistan and Chaminda Vaas from Sri Lanka.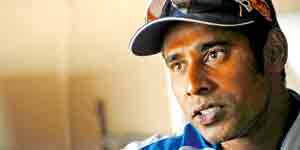 From the Lankan lines Vaas is easily the most successful new ball operator the country has ever produced and maybe we may not get another of the type over the counter. He had a heavy arsenal of deliveries. A sharp indipper, a well concealed off cutter and the reverse swing with the old-ball always were a huge headache to the opposing batsmen. Still many an opening batsmen would vouch for the fact that Chaminda Vaas was one of the most difficult propositions to counter early in an inning.
That Sri Lanka won their maiden test overseas was by courtesy of Mr. Chaminda Vaas who out bowled the New Zealand seamers in their own conditions in the 1994-95 series where he had a match bag of ten.
If one also adds that it was in the new millennium that Vaas really broke into his true stride it is not an overstatement. In 2001-02 he took 26 wickets in the 3-0 rout of West Indies, thus becoming only the second fast bowler, after Imran Khan, to take 14 wickets in a match in the Indian subcontinent.
Thereafter he made it into the history books when he bagged the first-ever ODI eight-for, against Zimbabwe, which included a hat-trick. This he followed with another first three ball hat-trick against Zimbabwe that too in a World Cup match in 2003. He also only is the fourth bowler in ODI history to bag 400 wickets behind our own Muttiah Muralitharan who tops the list.
Yet Vaas looks back at the 1996 World Cup win with a lot of nostalgia. He thinks that was the very epitome of his career. He said "The 1996 was my first World Cup. Winning the World Cup was the best achievement in my long career that spanned through four such tournaments. There in 1996 we played like one and went for a common goal. There we showed the whole world of what we are capable of. We went through the entire tournament unbeaten."
Vaas also feels that the final against the Australians was also a special one. "The final against the Australians stood out the most. We were after that forgettable tour of Australia where we were treated badly where it was clouded by the ball tampering issue and the Murali affair. But, our captain Arjuna Ranatunga stood out and stood up for us. He was a captain who always looked after his players. After that controversial tour and taking them on at the World Cup final and beating them – the feeling was great."
He was very modest when he was questioned about his initial breakthrough as a seamer to be contended with in the World arena when he helped Sri Lanka beat New Zealand in New Zealand he said that "While playing as a junior member in the side I was not under any pressure, besides that I learned a few tricks by then by playing a few international matches which I played prior to that game. There when I was taking the wickets, all the senior player stood by me and kept encouraging me and that gave me a lot of courage."
Then Vaas moved to the 1999 World Cup. "In 1999 we had a bad World Cup. We wanted to do it again, but, at that time we were not used to English conditions. Now our cricketers get the opportunity of playing all over, even some play in the English county circuit. At that time it was a different proposition.
"After 1999 everything changed. We had a new look team with a new captain – Sanath Jayasuriya leading Sri Lanka. Then in 2003 we had a good chance and we got into the semi-finals., but, sadly we could not make it into the final."
Talking about his hat-trick against Zimbabwe Vaas said "I was not looking for accolades, all what I was searching was for wickets to win the match. In limited overs cricket the most important factor is maintaining your economy rate. Yet, after taking two wickets in the first two balls I wanted the third one too. So I thought I would bowl outer in this and with that the third a wicket also came our way. When Mahela held on to that catch I really felt very special. I was on top of the world".
Finally moving on to the 2007 effort Vaas said "We played in that World cup too. We came into the final. We had a chance. At one juncture the match was scheduled to re-start the next day. The suddenly the umpires decided to play on. We played the game the next day I feel that we had a good chance, when Sanath and Sanga were batting things looked promising, we played most of our inning in semi-darkness".
Yet with an ironic tone he added "All that is history now. I enjoyed playing for my country", -- there was clear sadness in his eyes.