The Under 19 inter-school cricket game between St Joseph's and Trinity which incidentally is the 100th encounter between the two schools ended in a draw at Darley Road. However it was a narrow escape for the home team.
Trinity who has an impressive record of eight wins out of eight dominated the proceedings on both the days and they missed out in recording their ninth successive win as they had the Josephians chasing a target of 200 runs in shambles.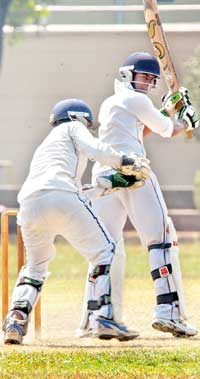 Trinity's Niroshan Dickwella in action against St. Joseph's at Darley Road. (Pix by Ranjith Perera)
Trinity at one stage had the home team struggling on 47 for 5 being saved due to some sensible batting by Dilan Fernandopulle and Sachin Hewawasam in the latter part of the innings. This helped them end the day on 105 for 7.
The opening day's play saw Trinity taking first lease of the wicket after struggling on 80 for 5, coming back to make a modest 193 with the home team ending the day on 155 for 9 and then being bowled out for 173 in the morning session of day two. Trinity batting the second time made 179.
The match between St. Peter's and Prince of Wales at Braybrooke Place ended in a tame draw yesterday. The Peterites dominated the proceedings with skipper Denham Perera and Shehan Fernando making their second consecutive tons helping them to amass 349 for 6 declared.
The Cambrains resuming from their overnight score of 39 for 1 were bowled out for 186. Following on they ended the day on 100 for 4.
The game between S. Thomas' and Wesley at Mt Lavinia ended in a high scoring draw. The second day's play saw Wesley resuming from their overnight score of 35 for 2 thanks to 118 by Tharindu Karunaratne and three other half centuries saw them making 368. This was in reply to the Thomians score of 300 for 6 declared.
It was another draw in the match between Ananda and Royal at Ananda Mawatha. The highlight of the match was the twin half tons by Royal's Imal Liyanage. St Benedict's shared major honours in their drawn inter-school match against Moratu MV at Kotahena yesterday.
At Darley Road: St. Joseph's vs Trinity
Trinity 193 (Niroshan Dickwella 34, Akila Jayasundara 29, Tissa Bandara 20, Dinuk Wickremanayake 54 n.o.: Rosco Thattil 3 for 36, Dinal Dambarage 3 for 38, Shivane Alirajah 2 for 35, Sachin Hewawasam 2 for 38) and 179 (Rajitha Jayatunge 45, Niroshan Dickwella 36, Janishka Premasinghe 24, Akila Jayasundara 21: Dinal Dambarage 5 for 69, Rosco Thattil 3 for 45, Shivane Alirajah 2 for 34)
St. Joseph's (155/9 overnight) 173 (Kevin Bernadus 37, Sadeera Samarawickrema 22, Dilan Fernandopulle 35 n.o.: Aamil Anaz 5 for 51, Janishka Premasinghe 2 for 56) and 105 for 7 (Dilan Fernandopulle 34, Vidusha Jayasinghe 19, Sachin Hewawasam 19, Kevin Bernadus 15; Janishka Premasinghe 4 for 40, Aamil Anaz 3 for 39)
At Braybrooke Place: S.Thoma's Vs Wesly
St. Peter's 349 for 6 declared (Denham Perera 121, Shehan Fernando 113, Nilochana Perera 68, Jason Buultjens 20: Damindu Fernando 3 for 109)
Prince of Wales (39/1 overnight) 186 (Isuru Thilina 65, Ashan Mendis 29, Rajeew Perera 26, Kushal Mendis 26: Dushan Hemantha 4 for 32, Julian de Zylwa 2 for 17, Nilochana Perera 2 for 52) and 100 for 4 (Rajeew Perera 39: Ranitha Liyanaarachchi 2 for 26)
At Mt Lavinia : S.Thomas' Vs Wesley
S. Thomas' 300 for 6 declared (Asiri Wickremanayake 104, Vinura de Silva 52, Sachin Peiris 38, Kavindu Perera 50 n.o., Umesh Fernando 21 n.o.: Ashel Kariyawasam 2 for 30, Daniel Bartholomuesz 2 for 68) and 24 for 1
Wesley (35/2 overnight) 368 (Tharindu Karunaratne 118, Ashel Kariyawasam 53, Raninda Sooriyakumara 54, Sachin Jayawardena 31, Jason Cadergamanpulle 29, Ashen Fonseka 22, Lahiru Perera 19: Shivane Perera 3 for 62, Madushan Ravichandrakumar 2 for 81, Neomal Wickramasekera 2 for 109)
At Ananda Mawatha: Ananda Vs Royal
Ananda 302 for 6 declared (Rasitha Jayaratne 65, Geshan Wimaladharma 56, Dhanuka Madushan 45, Ishara Samarakoon 43, Pasindu Madushan 36, Ushan Gunatileke 38 n.o.: Poorna Pabasara 2 for 78, Imran Khan 2 for 94)
Royal (22/1 overnight) 202 (Imal Liyanage 60, Heshan Kumarasiri 21, Dilan Abeysekera 41 n.o.: Sachitra Perera 6 for 61, Thamala Athulathmudali 2 for 29) and 225 for 6 (Imal Liyanage 76, Sampath de Silva 53, Dilan Abeysekera 32 n.o.: Geshan Wimaladarma 2 for 38, Sachitra Perera 2 for 71)
At Kotahena: St.Benedict's Vs Moratu MV
St. Benedict's 265 (Waruna Fernando 86, Rukshan Weerasinghe 68, Roy Sheran 28, Eranga Ratnayake 21: Sanka Ramesh 5 for 68) and 137 for 4 declared (Roy Sheran 45, Arjuna Perera 30, Waruna Fernando 17, Rukshan Weerasinghe 21 n.o.: Sanka Ramesh 2 for 65)
Moratu MV (35/3 overnight) 186 (Sujeewa Liyanage 32, Sanka Ramesh 84 n.o: Arjuna Perera 4 for 52, Dilan Angelo 3 for 39) and 152 for 3 (Sujeewa Liyanage 48, Avishka Perera 47, Ishan Peiris 21 n.o. Roy Sheran 2 for 32)