When Vishwadhika Perera first began baking cakes, cupcakes and other intricately designed treats, her motivation was not to achieve a long held ambition, but rather to stave off the frequent bouts of boredom being away from her sailor husband induced.
More than a year later and Vish, as she is more commonly known, has seen her humble enterprise's clientele swell up to legions of greatly appreciative customers, constantly queuing to phone in with their varying ideas and demands.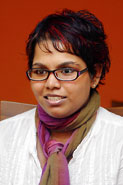 Vishwadhika Perera
Currently recovering from an influx of wedding and birthday orders throughout December, Vish continues to mull over ideas for prospective tidbits while spending time with her husband and six month old daughter. Her base of operations for 'Sweet Wishes by Vish', her simply named baking service that fulfils phone and email orders, is still her modest and pleasantly decorated flat down Moor Road in Wellawatte.
"I don't have plans to open a separate shop," Vish explains, saying she prefers her home environment and the ability to work at her own pace. Nevertheless, this petite baker is often inundated with a sea of challenging orders from a range of unique customers.
"I get a lot of orders for customised cakes and I try my best to cater to each of their requests. They usually give me the person's age (whom they want the cake made for) or send me designs and ideas. I then try to incorporate these into the cake," she says.
Citing an instance when she had to adapt to a particularly challenging situation, Vish mentions the time she had to bake a cake for an elderly man. "I asked him what he was most fond of and he answered 'my granddaughter'. Yea I got more than a bit scared when I heard that. Making a cake of his granddaughter would have been out of the question, so I kept on asking him about the other things he liked and he eventually mentioned gardening. I ended up making one of my best cakes, a miniature garden," she recollects and chuckles.
Even Vishi's cup cakes have an element of individuality, she reveals. Hers are the only kind with fondant topping, an enticingly creamy coating of icing, which makes them a favourite on Sweet Wishes' diverse list of items, which also include chocolate chip cookies and brownies.
"I also hope to start making pastries but it takes a while to master the art. It took me a long time before I finally taught myself how to make a perfect Shoe Pastry," she reveals.
Vishi's immersion into the culinary world was progressive, beginning tentatively before rapidly gaining steam after she got married. She explains that her baking skills grew mainly through many failed experiments in the kitchen and the desire to come up with the best possible combination of varying ingredients.
When quizzed about her long term objective she boldly states, "I want to be like Martha Stewart," without the slightest trace of humour."I know it's a very far off ambition but I feel that it's possible."
This seemingly unrealistic goal might appear more than a little farfetched to many. However, those that attended her recent Bake Sale might be quick to contradict these doubters. The event, held in October, brought scores of insatiable chocoholics and every other type of confection addict to Vishi's doorstep, forcing her to produce a baking effort that would have had her idol shaking her head in disbelief."I baked about 900 cup cakes," Vishi exclaims breathlessly.
One of the chief reasons people keep on coming back for more food, Vishi happily announces, is the nature of the relationship she shares with them. "It's very personal, I like to talk to each person and build a strong friendship with them. I consider myself a very outgoing person so it comes very naturally to me. I was very happy when I got so many Christmas and New Year cards from my customers because that is the best kind of response anyone can get," she says before adding with a wide grin," Plus my food is tasty."
Those people interested in placing an order with Vish, can contact her on 0773780760 or email her at vishwadhika@gmail.com To learn more about the food she offers you can visit her Facebook fan page 'Sweet Wishes by Vish'.