Royden O. Gibbs (the O stands for Oswald) has that air of quiet confidence that comes with the wisdom and maturity of years. He knows that when he picks up his brush, he can capture the scene before him, whether it's a crumbling old fort, a distinguished personality or lofty mountain range with unerring accuracy.
Equally he can turn from oils, to pastels to watercolours with ease, again as a result of a well-honed technique and years of dedication to his craft.
Years of painting lie stacked in the cool, relaxed confines of his Polhengoda home, its entrance shrouded by trailing creepers, a lush profusion of green that pleases his artist's eye. Once within, there is no mistaking that this is an artist's abode. There are paintings everywhere- hanging on the wall, portraits in pastel on a verandah table and more framed and unframed canvases leaning on the furniture, all being scrutinized for his forthcoming exhibition at the Alliance francaise de Kandy from January 15 to 24.
He has titled the exhibition 'An Odyssey in Watercolours and Pastel Paintings' and though the word odyssey is most often loosely used, it seems to be not amiss in describing Royden's journey. It has been a long one - the young schoolboy who loved to paint, the early promise seen in the many awards he won for portraits and figure drawings at the Ceylon Society of Arts competitions, his foray into the commercial world to sustain himself with advertising work, the constant travel to paint remote and little known sites and now a more relaxed period of contentment with his work and his teaching.
Watercolours are what he tends to favour these days. "It's an unforgiving medium," he says with a chuckle, adding that one false stroke could ruin a work. The paintings before us show no signs of any false strokes…they are masterly, delicate yet totally assured with great attention to detail, so subtly woven in.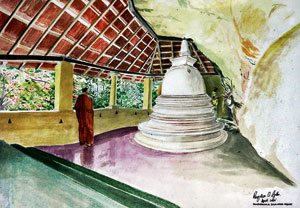 Bambaragala Raja Maha Vihare: note the drummer in the background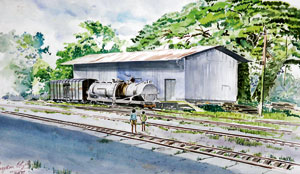 Changing scenes: The Avissawella railway shed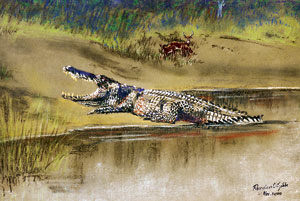 Pastel portrait: A croc in motion painted at Yala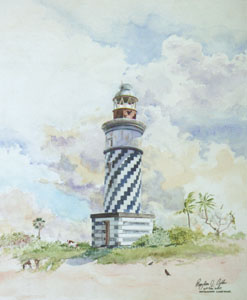 Hambantota lighthouse
This is an artist who is still combing the island for scenes to paint, delighting in the ordinary, what most others would pass over as mundane. It's not unusual for him to take a bus to a busy town, scan the boards of incoming buses to pick an unlikely -sounding destination, make inquiries as to what he would find there and hop onboard. Hours later, he would be by a river's edge or at a remote temple, painting furiously, often surrounded by children, drawn by the 'suddha-looking artist' and the sweets he habitually carries with him.
The children pepper him with questions and far from seeing this as a distraction, Royden delights in their curiosity. By the time he's finished the painting he has learnt quite a lot about their village too, he says. Memories of these exchanges stay with him. Occasionally, a village mother would offer him a 'buth-curry' or a hot cup of plain tea and he is moved by the warmth of these simple gestures. Most of his paintings have a story behind them, and whether painted two years ago or 40, he has instant recall of them.
It was an early fascination with paints that saw the young student of St. Peter's College, Bambalapitiya at the Cora Abraham art classes and later under the tutelage of Mudliyar A.C.G. S. Amarasekera where he learnt the technical principles without which he feels it is difficult for any artist to progress. "He would get his students to copy famous paintings; I refused to do that, but he recognized and nurtured my talent," he says of the Mudliyar.
He is dismissive though, of artists who profess to be self-taught, saying that there is a lot to be gained by learning the principles and techniques of art. He himself has been teaching for 25 years and truly enjoys sharing his knowledge with small groups of students, taking them with him on his excursions off the beaten track. He talks freely of the finer points that help enhance their skill, whether it's getting the geometrical proportions of a building down to a T or capturing the shape of a subject's head and the subtle stance of the foot in a portrait.
Today he is known for his watercolours but says oils, gouache, pastels are also always ever satisfying. "People also think I only paint landscapes but it is not so," he says, and his collection amply illustrates the extent of his reach.
Yet, his true passion that comes leaping out of his canvas is the country, its wildlife, architecture and unbounded natural beauty. Royden's years of painting lighthouses, forts and vihares have left him with an impressive body of work, that also serve to document the changing face of Sri Lanka, scenes that too often have been engulfed by the tide of time. The railway running shed in Avissawella by the roadside is a case in point…he painted it in 1987- it has been demolished since and the spreading Mara tree overshadowing it cut down. From the pile of canvases he pulls out an unframed unfamiliar scene—the lighthouse at Arippu, and then the painting of the Dutch Fort there, which incidentally he adds remains somewhat controversial as to its origins.
The current exhibition will also reveal little seen views of the Colombo port. "When I painted the jetty, 40 years ago, there were steamers berthed, the more recent paintings show container ships," he says. Then there are the Raja Maha Vihares across the country of which he has documented many Lankatilleke is a particular favourite.
Many of these paintings remain with him, not for want of buyers but because Royden is loathe to part with them. He has paintings dating back 50 years, he confesses, and there are more waiting to be done. When his daughter living in Australia, urges him to come and live there, he tells her "I have not finished with Sri Lanka yet-- it's unending here."
Yet for an artist whose abiding desire has been to capture and document the many facets of the country and share it with a wider audience, there is also some regret that his work has not been sufficiently recognized by corporate and official bodies as a means to promote the country. But the thirst to travel and paint is unquenched. Indeed the forests and streams, the forts and lighthouses are still beckoning.
'An Odyssey in Watercolours and Pastel Paintings' will be on at the Alliance Francaise de Kandy from January 15 – 24.