I entered the Regal Cinema expecting to watch yet another typical Asoka Handagama movie that would subtly peep into the contemporary sexuo-social paradoxes of society. I came out visibly shaken, battling between emotions and rational thinking and finally allowing the rational side to claim victory.
Vidu is a movie with a new theme, story line and message. The storyline is different from other Handagama movies.
The main character Vidu, is a street urchin whose single mother, unknown to the child, raises him by becoming a pickpocket. Since he is fatherless and certificateless, Vidu is rejected by the conventional school system which always gives value to such social norms and not to a child's ability to develop himself and be a useful citizen. Vidu, haunts the beaches all day when his mother is engaged in her clandestine job. He mingles with tourists and picks up the language of the 'Suddhas'-English, a rare skill which even schoolgoing children are unable to acquire.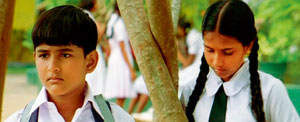 Driven by the urge to go to school, he steals a school uniform and mixes with the other students, attending morning assembly as if another regular student. When the school's progressive Principal challenges students to come forward and deliver a speech in English, everyone hesitates, but Vidu surprises all by taking up the challenge. Vidu is profusely praised by the Principal but, unfortunately, it becomes the end of his school career as his cover is revealed by the local politician's son whose uniform Vidu had stolen. He is back on the streets again.
Then, at a local political rally when the organisers have failed to muster a sufficient crowd to please the political master, Vidu, the wonder boy, steals an FM microphone, climbs a tree and gives a commentary about the meeting which the entire town can hear. The townsfolk gather in large numbers to hear Vidu, and the organisers are able to show the political master that they have come to hear him. The Principal too happens to visit the site and under pressure from his teenage daughter who has developed a crush on the street boy, agrees to take Vidu on as a student. Then, all hell breaks out leading to plots, counter – plots keeping the viewer in constant suspense.
It is now revealed that the local politico is Vidu's father and he claims Vidu for his election campaigns. But the mother refuses. By this time, the local politico's son, the Principal's daughter and Vidu become a team and they stand up against the politico's crafty schemes to exploit Vidu. The Principal too is dragged into the conflict. Eventually, to everyone's satisfaction, the young heroes win and the evil forces are defeated.
This may sound like a typical fairy tale in which the hero and heroine become victors eventually by crushing the evil forces. But when a story of this type is translated into cinematic language, unless it is handled by an experienced director, it inevitably becomes a flop. Under the experienced hand of Handagama who knows how to bring events to dramatic conclusions and handle new actors to get the best out of them, the film escapes this fate. The two youngsters who play Vidu and the Principal's daughter are newcomers to the cinema world, but they handle their roles like seasoned actors under Handagama's able guidance.
Vidu is a children's movie with a difference. We have all the plots, counter-plots, heroes and evil forces there. But, it subtly scrapes our contemporary social fabric questioning our ethos, values and world outlook. When we live in a society which promotes looking inward, valuing the past and being suspicious of foreigners, but at the same time, wishing to become a developed nation within the shortest time possible, we are heading to irreconcilable conflict. It pushes us to a paradox: while worshipping everything national, how to get the best out of the rest of the world.
By ignoring the value of a common language and thereby denying access to a storehouse of international knowledge, we have missed opportunities. Despite being under colonial rule for more than 150 years, Sri Lanka's English speaking population is less than two percent. This lack of knowledge of English and the ability to communicate freely with other ethnic groups has made Sri Lankans a 'group of frogs dancing happily in a well'.
The frustration of parents over the prevailing situation can be seen by their race to provide their children with an English education patronising quacks in language teaching and sub-standard international schools in the process. This thinking has even penetrated the echelons of higher education whose authorities now insist that mastery in English is a must for admission to a local university.
Handagama, through Vidu, has driven this bitter truth home His message is clear: Give every incentive to children to learn English and be different. It does not matter how you do it. What matters is that you have done it.
Handagama was a rebel in the artistes' world and that factor was used to crush him mentally, economically and even politically. After his bad experience with Aksharaya, no financier was willing to fund his artistic work.
He was told in no uncertain terms: question the prevailing system and face inevitable bitter consequences. He went into hibernation angrily and unwillingly. The country missed the opportunity to create a world class cinema and make its mark. His return to the artistic world is therefore, most welcome.
Vidu is not the past or the present of Sri Lanka. It is Sri Lanka's future.