Published in 2006, 'Half of a Yellow Sun' helped make Chimamanda Nagozi Adichie an author who could boast an international following. Yet the novel told a very personal tale, something the author has described as her tribute to love. She describes growing up in the "shadow of Biafra," and has said she wrote the novel in part because the war claimed the lives of both her grandfathers.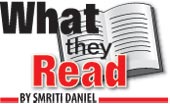 "I wrote this novel because… I wanted to engage with my history to make sense of my present, many of the issues that led to the war remain unresolved in Nigeria today, because my father has tears in his eyes when he speaks of losing his father, because my mother still cannot speak at length about losing her father in a refugee camp, because the brutal bequests of colonialism make me angry, because the thought of the egos and indifference of men leading to the unnecessary deaths of men and women and children enrages me, because I don't ever want to forget. I have always known that I would write a novel about Biafra."
The Biafran war has in some ways dominated Chimamanda's literary career. At 16, she wrote a play called 'For Love of Biafra'. Years later came some short stories under the title 'That Harmattan Morning' and another novel 'Ghosts' that all dealt with the war. But it was 'Half of a Yellow Sun' that won her the Orange Prize for fiction. It came after her first novel 'Purple Hibiscus'(2003) for which she was honoured with the 2005 Commonwealth Writers' Prize for Best First Book.
Her most recent publication is 'The Things Around Your Neck', a collection of short stories that deals with the immigrant experience. She is a 2008 MacArthur Fellow (popularly dubbed 'the genius award') and her books are set texts across the world.
Moving between Nigeria and America, Chimamada says she's excited about visiting Sri Lanka.
"Ever since I first read and fell in love with Romesh Gunesekera's 'Reef', I have had a deep and somewhat romanticized interest in Sri Lanka. I have never visited and I am looking forward to see how the reality will compare."
What are you reading right now?
Muriel Spark's 'Loitering with Intent'. I've never read Sparks and after recently reading about her work, I decided to seek it out.
Where do you like to read?
In bed. Curled up on the living room couch. Leaning against the kitchen table.
Achebe's 'Things Fall Apart' was a very influential novel in your life - could you share what about it impressed you so deeply? Does it continue to be one your favourites?
Yes. It was one of two books that gave me permission to write stories about what was familiar. Until then I had assumed that literature was limited to the British and American books I read while growing up in small-town Nigeria.
You identified 'Decorations in a Ruined Cemetery' as a book that deserved more recognition - what did you most love about it?
The writing is exquisite. It has melancholy and nostalgia, which I am personally drawn to in novels. More generally, it does what I think good fiction always should: it tells a story, and it has emotion and character at its centre.
You've described yourself as "a very happy feminist" - if you were to recommend a book that reflected that state of being, what would it be?
It's really my tongue-in-cheek way of responding to the idea of feminism being inherently sour and joyless. Ama Ata Aidoo's work is wonderfully feminist and honest. Her story collection 'No Sweetness Here' is a favourite. I like Mary Gaitskill's work although I'm not sure about the 'happy' part. Doris Lessing's 'The Golden Notebook'. Tsitsi Dangeremgba's 'Nervous Condition'.