The ability to record and transmit knowledge without loss was a key reason for human progress over the last three millennia. When text is written down, rather than just memorized and verbally passed down the generations, content accuracy is maintained and distortions are minimized.
The oldest records exist mainly as stone inscriptions. Paper records are more fragile and unless copied, are lost to termites or fire after a few hundred years, like the Papyrus Scrolls in the Library of Alexandria, which was once the archive of most western thought, and was unfortunately lost to fire in 48 BCE. Document survival was solved with the invention of the Gutenberg press in 1450 that enabled mass production of books and led to more rapid development over the last half millennium.
Free public libraries have made books available to anyone interested in reading in many countries. However, books involve extensive reading, and remembering the information content when needed. Therein lies the significance of the next evolutionary stage - the ability to instantly search digitally published books via a networked computer database.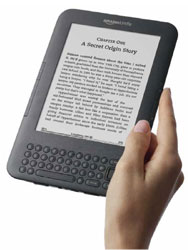 Project Gutenberg(PG) ( http://gutenberg.org ) started in 1971. At first, books were retyped into computers. Development of Optical Character Recognition (OCR) software permitted automated recognition of printed text. However there was an error rate of about 1-2%, and correcting these errors involved a labour intensive process. Distributed Proofreaders(PGDP) (http://www.pgdp.net/ ) is an official part of PG. It trains volunteers online and coordinates the same book to be proofread by many persons till it is finished. That adds another book in the online public domain, free to anyone who needs it. PG now has over 33,000 proof read books online. It is an open access archive of digital eBooks and no different to a Free Public Library.
Copyright is an issue which needs to be considered when books are reprinted. According to new copyright laws adopted in Sri Lanka in 1998, a book will normally go to the public domain 70 years after the death of the author. It was 50 years before 1998. In USA, all books published before 1923 are considered free of copyright. The special significance of this year is easy to recognize. In 1923 the Walt Disney Studio was started in Los Angeles, and they have the lobbying influence to prevent Micky Mouse and Donald Duck ever going to the public domain.
In 1998, I started the lakdiva website since at the time there was hardly any information about the history of Lanka on the web. Websites such as tamilnet.com were exploiting the situation and putting their own version of history online. They had even a distorted version, claiming to be that of the Sinhala. The Sri Lankan Government had yet to realize the importance of the Internet.
In 2000, I encouraged my son Rhajiv, 14 years old at the time, to create a digital version using OCR and put online ( http://lakdiva.org/codrington/ ) H. W. Codrington's Short History of Ceylon, published in 1926. Its publishers, Macmillan, told me they had no record of the book on their computer. It had gone to public domain in 1992, 50 years after the death of Codrington. In 2002, Rhajiv put the Mahavamsa online ( http://lakdiva.org/mahavamsa/ ).
The Mahavamsa was written in Pali by Ven. Mahanama Maha Thera of the Dighasanda Senapathi Pirivena in Anuradhapura in the 5th century CE. Prof. Wilhelm Geiger's German translation of the Mahavamsa, was translated into English and first published by the Ceylon Government Press in 1912. Geiger died in 1943 and his books came into the public domain 50 years later.
Andrew Carnegie had been in the forefront of creating Free Public Libraries in USA. While I was doing research at Carnegie Mellon University in Pittsburgh, Raj Reddy who was Dean of the School of Computer Science, started the Universal Library Project planning to scan a Million Books outsourced to India ( http://www.archive.org/details/universallibrary ). The university obtained a very expensive custom-made scanner to digitize the Posner Memorial Collection of History of Science books, which included for example first editions of books by Galileo and Newton ( http://posner.library.cmu.edu/Posner/ ). I was able to get a few of my father's rare books on Ceylon scanned by them and contributed those scans in 2004 to the Gutenberg Project. They have yet to be proofread and put online.
In 2004, the Google book project started with the ultimate goal of digitizing every available book and making it available on the Internet. They ignore the 2% error rate as tolerable for indexing. This results in a book which is almost properly indexed, and you read images of the pages of the book online. Within six years the number of books scanned is over 15 million. Google estimates there are about 130 million books in print and hopes to have them all scanned by the end of this decade. The quality of the OCR has improved significantly and some of the digitised books, put online as text with an automated process, look as good as those with manual proof reading.
Many rare public domain books have been reprinted by an Indian publisher AES, who gave a set of these reprints to the Google book project. Google has granted an online copyright to AES since they provided the books for scanning. AES owner Gautam Jetley told me he did not ask for copyright, and would not object if the limited view is removed by some government order. For example, in USA anything published by NASA is free of copyright, since NASA is funded by the American taxpayer.
I have looked hard to find an authority in Sri Lanka who would write to Google about removing the online copyright granted to Indian publisher AES for these reprints of Public Domain books, published by the Government of Ceylon. Each government department pointed me to another, with none willing to take the responsibility to write the letter since they said they did not have the Authority. It does show that if I waited for some authority in the Government to decide to put the history of Lanka online it would not have happened, for a long time.
The lakdiva.org online version of Mahavamsa has been copied and put on other online web sites. One of those sites ( http://mahavamsa.org ) has however recently improved on Rhajiv's effort and added the Culavamsa including also the footnotes in Geiger's translation.
In 2001, the Lanka Academic Network (LAcNet) started a Sinhala E-book project called Panhinda which was unfortunately shortlived due to the lack of volunteer time to keep it going. It is nice to see that a new site ( http://www.pothpath.com/ ) has been recently started to serve the same need.
There is a mistaken notion that when a book is made available freely online, sales of the book will decrease. Market surveys have consistently shown that the opposite is true. The greater the publicity for the book, the more people buy the book for their personal libraries.
The digital archive of books on the Internet is growing very rapidly. We may soon have all of the published work of human civilization available online and instantly searchable. We will truly then have instant access to information - with days of painstaking reference in a library, reduced to a fast comprehensive search. Hopefully Sri Lanka will keep up with the new trend, in this age of instant access to all published information.
(The writer is a developer of a website on Lanka including a site for Lankan books at http://books.lakdiva.org)