'Sri Lankan Elephant- A Celebration of Majesty' a handsome coffee-table book by Vajira Wijegunawardane was launched on Wednesday at the 80 Club with a gathering of wildlife photographers, enthusiasts and senior corporate heads present. A recognized wildlife photographer, this is Vajira's first book.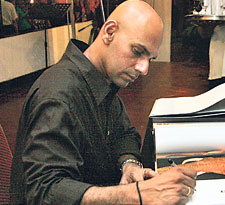 The author autographing his book
Speaking at the simple ceremony he touched briefly on the unique wealth that elephants are to this land, a point also emphasized by environmentalist and photographer Rukshan Jayewardene.
He recalled how the passion for wildlife had brought him and Vajira together, though he was more inclined towards leopards and Vajira elephants, particularly tuskers. Conservation of this precious heritage is the message the book carries.
With striking images of elephants in the wild, the country's breathtaking landscapes from the wildlife parks to lesser known wild spots, the hefty volume, printed in Singapore also has chapters contributed by a host of the country's leading environmentalists- Dr. Charles Santiapillai, Dr. Prithiviraj Fernando, Dr. Eric Wikramanayake, Dr. U.K.G. Padmalal, Gehan de Silva Wijeyeratne among others.
The book will be available at leading bookshops, shortly.
For more information please see www.srilankawild.com or call +94752775566.