In a flurry of motion a leopard pounces on a group of startled wild boar, not too far away a crane stretches its wings idly by the a lake and just a metre away the bright penetrating eyes of young leopard glare directly at you. The Harold Peiris Gallery- Lionel Wendt was given a touch of life as breathtaking photographs of buzzing bees, cascading waterfalls and an assorted display of wild animals were strung up on its walls as the Yala Village Etisalat Nature Photographer 2010 competition came to a close.

Nature photographer (2010) Dr. Gamini Kathriarachchi. Pix by Saman Kariyawasam
The awards ceremony was held on December 10 with Dr. Gamini Kathriarachchi being awarded the acclaimed Nature Photographer of the Year as well as first prize for the category Birds in Action. Janitha Chameera Jayasekera bagged the first prize for the Animal Behaviour category and W. M. Gayan Pushpakumara clinched the first prize for the Wild and Scenic Places category.
Amidst the wishes, handshakes and congratulations, the Sunday Times spoke to Dr. Gamini, who had taken up photography as a hobby 30 years ago and has gone on to become an international award-winning photographer. Sharing some photography tips he says the key to nature photography is a great deal of patience and a little know-how on animal behaviour.
"It was a dull day at Yala, around 4.30 to 5 p.m., with so many parrots around," he says describing how he got his amazingly well timed shot. "I had my camera on manual settings and I waited for a long time before I took this photograph," he gestures at his winning entry of three green parrots fluttering over a tree stump. "Prediction is the most important thing. If you know how the animal behaves you can predict what they are going to do and be ready to photograph it."
Among the winning and commended entries were photographs by younger photographers. Winning quite a few awards in the younger photographer categories, Kusan Panditharatne (15) from S. Thomas Prep, says his favourite photograph is of a waterfall he captured with his compact camera while on a trek in Wellawaya. The photograph of a crane stretching its wings idly by a lake was snapped by Kavindu Senanayake (11) from S. Thomas College, Mount Lavinia, with his point-and-shoot, Nikon Cool Pix camera. A leopard lounging on the branches of a tree in Yala having caught her eye, Siobhan Manuelpillai (13) of St. Bridget's Convent snatched her father's DSLR camera and snapped a winning photograph.
Having caught up with one of the distinguished judges, the Sunday Times spoke to Rukshan Jayawardene who believes that overall in terms of photography, Sri Lanka is still below the mark of internationally acclaimed standards.
"We have a few good photographers but if our photographers want to improve they should compare their work to the work of internationally recognised photographers, and not what's found here in Sri Lanka."
With regard to the Nature Photographer 2010 competition which was organised by Yala Village and Etisalat, Rukshan says "The entries were quite variable. Dr. Gamini's picture was a difficult moment to capture. It requires some luck and prediction but mostly a lot of planning must go into such photographs."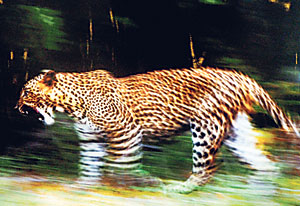 Animal Behaviour– first place– Janitha Chameera Jayasekera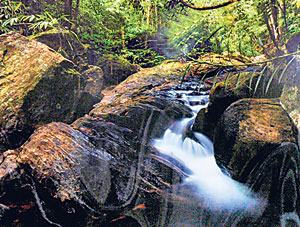 Wild and scenic places – first place – W.M. Gayan Pushpakumara