Avionics Design Engineer Melony Nilanthi Mahaarachchi's work at SpaceX (Space Exploration Technologies) in Hawthorne, California sees her constantly travelling back and forth between the test launch sites in Texas and Cape Canaveral, Florida.
For the athlete from Girls' High School, Mount Lavinia and Holy Family Convent, Colombo 4, who went on to become a Mechanical and Aerospace Engineer breaking into the avionics (aviation electronics) system field was a great opportunity, one she seized the moment it came in her way. She is now one of the avionics design engineers working on the Falcon-9 spacecraft, the Falcon family space vehicles being the world's first fully reusable launch vehicles, that will carry cargo and astronauts back and forth to the International Space Station (ISS) when the NASA Space Shuttle retires.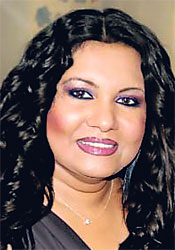 Melony Nilanthi Mahaarachchi
Born in Colombo, Melony migrated to the USA in late 2003 with her husband Ranmal (formerly at Aitken Spence Travels, Colombo)and their two children Drehan, just five years and Shanara, three years at the time.
She graduated from the prestigious Henry Samuali School of Engineering at the University of California, Los Angeles (UCLA) last year as an Aerospace Engineer and is currently pursuing her MS degree in Manufacturing and Design in Electromechanical Systems Engineering at UCLA.
While at UCLA she was a student researcher at NASA-Jet propulsion laboratory- Los Angeles for many years. She was an honoree of the prestigious American Society of Women Engineers in 2008 for outstanding scholastic achievement and dedication, one of only three students from California, Nevada and Arizona to be so chosen. It was also the first time a Sri Lankan was honoured by the Society of Women Engineers. After graduation she joined L-3 Communications, Electron Technologies (a former Boeing company and a Fortune 100 company) located in Los Angeles, California, as a Mechanical Engineer. L-3 ETI is the largest producer of Xenon Ion Propulsion Thrusters commonly known as XIPS to propel satellites in low orbital earth.
"All my life I wanted to be a Rocket Scientist and when I joined L-3, I had to pinch myself few times to realize it was not a dream any more," she says, recalling how much she enjoyed being involved in new design concepts, testing and dealing with thruster anomalies. As the only woman engineer in the department, she had at times felt challenged, she admits, but growing up as an only girl in the family and having married into a family of only boys, has trained her to stand shoulder to shoulder in dealing with day-to-day challenges, she says.
Melony hopes her story will be an inspiration to Sri Lankan women who hesitate to chase their dreams due to family and other commitments. When she migrated to the US with two young kids she had no support system as she started her education there. Balancing a family as a student seemed impossible. Subdividing her goals into small achievable milestones, taking a day at a time was the only way to cope, she says.
Her achievements have been recognized by UCLA Henry Samueli School of Engineering where along with the biographies of nine other students, hers will be published as the Most Inspired Students of the Decade.