It is a message of sharing, caring and sacrifice. It is also a message of hope for those in despair.
As thousands of Christians across the country await with joy the celebration of the birth of a little baby boy in a lowly manger in Bethlehem 2,010 years ago, there was a different kind of hope for Sri Lankans emanating from a small group of people who were all smiles mixed with tears last Thursday.
"I want to spread this message far and wide," vows Bharatha Calyaneratne, 49, a father of two teenage daughters, who had been pulled back literally from the dead on December 7.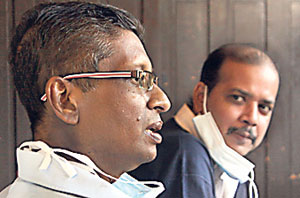 The lucky recipients: Bharatha (L) and Sujeeva. Pix by M.A. Pushpa Kumara
Yes, he is willing to shout from the rooftops about the change that has taken place within him, which will provide hope to many others, due to the offering made by the relatives of a 22-year-old accident victim and the dedication and hard work of a team of doctors who carried out a "marathon" harvesting and transplantation operation, the second within short six months.
With no proper facilities, they come in the middle of the night, fix things and go off, says Bharatha. Bharatha is the second recipient of a liver, transplantations of which had never been carried out successfully before in Sri Lanka.
The first was on June 27 and it was a poignant moment when Bharatha met S.A. Sujeeva Perera "who is fine now", the trailblazing patient who got a new liver from a brain-dead person. They are friends and coincidentally they live at Nugegoda but of course it was no coincidence that the surgical team which carried out the transplants was the same.
Bharatha had not only gone to many a doctor but also sought treatment in Chennai where he had been told to find a live donor and Rs. 10 million for the transplantation.
It was while frantically looking for the money and the donor back home that he heard about his friend's near-miraculous recovery at the hands of the surgical team headed by Prof. Mandika Wijeyaratne, Professor of Surgery at the Colombo Medical Faculty. The team includes Vascular and Transplant Surgeons Dr. Nalaka Gunawansa and Dr. Rezni Cassim and Dr. Anuja Abayadeera, Senior Lecturer in Anaesthesia, Colombo Medical Faculty.
Bharatha came to us about two months ago with liver failure for which the answer is a liver transplant, explained Prof. Wijeyaratne, adding that he was then put on the waiting list. The symptoms were all there – the tummy was "huge" like that of a heavily pregnant woman, his legs were swollen and the medication made him feel drained, the Sunday Times learns.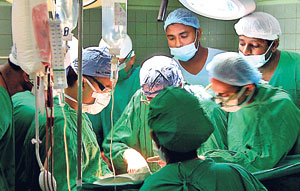 Marathon transplant: The surgical team at work on December 7
On December 4, his condition took a turn for the worse. He was drowsy and confused. A complication of terminal liver failure is encephalopathy, says Prof. Wijeyaratne explaining that it affects the brain.
Admitted to Ward 28 of the National Hospital in Colombo on December 5, his condition was deteriorating rapidly, when it was learnt that a young airman who was seriously injured in a motorcycle accident, suffering a bad head injury, was deemed brain dead at the Neuro-Trauma Unit. The family was more than willing to donate not only his liver but also his kidneys.
The procedure duly being attended to, the surgical team set to work on December 7 at the crack of dawn -- 3 a.m., the harvesting lasting about three hours and then the transplantation at about 9.30 a.m. going on till 5 p.m.
The kidney transplant for a young girl followed. "It was a full day of transplants," says Prof. Wijeyaratne, who was able to get the operating theatre for these emergency procedures from a Consultant Obstetrician and Gynaecologist who gave up his routine list to accommodate them.
Stressing that the liver was given to the most-ill of the 40 listed patients, as he was urgently in need, Prof. Wijeyaratne urges a separate unit so that more people can benefit from transplants.
With Bharatha's family bonding with the young airman's relatives and supporting them at the almsgiving, the call also goes out to the public – in the event regrettably of a family member being brain-dead to consider organ donations.Then even though the loved one is no more, he or she will live through others.