It is a landmark in Kandy -the old Kandy Kachcheri built by the British over the former Palace of King Wimaladharmasuriya. This stately old building has now been given a new lease of life. Converted to an International Museum it will house 17 sections devoted to countries which have connections with Buddhism. November 17 saw the opening of the first section - the Chinese Buddhist Museum.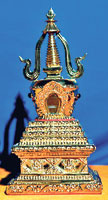 The replica which houses the Tooth Relic of Buddha as the Chinese claim
The original intention after the vacation of the Courts complex which was housed in this building was to convert this premises to a meditation centre and library. Though this was envisaged by former Diyawadana Nilame Neranjan Wijeyaratne, who was then in charge of administering the Sri Dalada Maligawa, several obstacles saw the premises remain closed, though it was subject to renovation by the Archaeological Department.
President Mahinda Rajapaksa then handed the building over to the Sri Dalada Maligawa and the present Diyawadana Nilame Nilanga Pradeep Dela came up with the idea of opening an International Museum. With the consent of the two Mahanayakes of Malwatta and Asgiri Chapters, work on the Museum began.
The first step was to move the Library of the Sri Dalada Maligawa which was housed with the Sri Dalada Maligawa. The Octagon which also holds valuable books remains as it is with a competent Librarian in charge.
The first complete Museum section of the 17 countries was the Chinese section, opened by the Mahanayake of Beijing, Lin Guwa Vihare Venerable Shee Shaw Sha. The Minister of Religious Affairs of the Chinese Republic Yan Shuwa was also present. Associated at the opening was the Vice-Chairman of the Buddhist Association in China Venerable Shu Weyong Thera. The General Secretary of the Association Wayang Jeyang was also present.
The other countries, in addition to China, which have connections with the Buddhist world that are to be represented here are, Korea, Japan, Myanmar, Thailand, Malaysia, Cambodia,Vietnam, Laos, Indonesia , Bhutan, Pakistan, Afghanistan, Nepal and Bangladesh.
The second section to be opened shortly would be Japan and by the end of January 2011 all the other sections would be opened to the public.
A memorandum of understanding was also signed by the Chinese Buddhist delegation and the two Mahanayakes of Asgiriya, Malwatta and the Diyawadana Nilame for the exchange of cultural ties and the maintenance of the Museum section.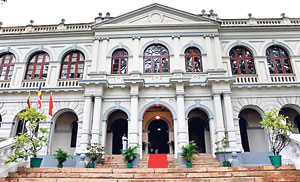 The imposing old kachcheri building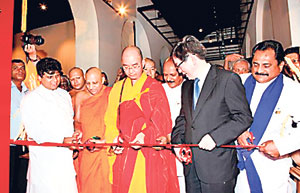 At the opening of the Chinese wing