Who are the Memons? In Sri Lanka this community numbers just over 10,000. However, they are a vibrant group, keeping alive traditions they carried over as Indian immigrants, priding themselves not only on being captains of industry but on their philanthropy as well. Though theories of their origins abound, modern Memons first became known as traders. Reportedly, the first of them arrived in Sri Lanka in 1870. Manna Seth was a pedlar of textiles in Jaffna before he set up a business in Pettah. Others like him came to the country, tempted by its reputation as a trading hub. They settled here, becoming a small but intrinsic part of the island's population.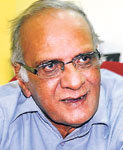 Former Deputy Foreign Minister Hussain Bhaila
Barring the arrival of these few traders, the real surge in the local Memon population came as India writhed in the fires of partition. Escalating communal violence (the Memons of Gujarat had wanted to join Pakistan) forced many to flee.
Among them was a Zubeida Abdul Latif. In 1948, she fled to Sri Lanka, joining her husband Haji Ahmed Bhaila. A year later, their firstborn son, Hussain, was born. Now in his early sixties, Mr. Bhaila, a former Deputy Minister of Foreign Affairs and former President of the Memon Association of Sri Lanka, was the first Memon member of Parliament.
We meet him at the Memon Association of Sri Lanka, whose offices are to be found at the very end of a lane off Galle Road in Colpetty. Mr. Bhaila says that globally Memon populations are concentrated in Pakistan, Bangladesh, the U.K and South Africa ("It is said that Mahatma Gandhi stayed with a Memon when he was in Africa") with the largest number having coming from India.
In Sri Lanka, he tells us that the smallness of the local community have kept them tightly knit. He explains that the community has opened up in recent decades as young Memons have embraced higher education becoming industrialists, doctors and lawyers, sportsmen and poets. Many of these stories are told in a book commissioned by the Association titled 'Memons of Sri Lanka: Men, Memoirs, Milestones'. Written by journalist Asiff Hussein and businessman and social worker Hameed Karim Bhoja, the books pays tribute to the history and achievements of the local community.
The book also discusses a number of competing theories that speculate about the origins of the Memons; one of the most well known – the Lohana theory - begins by the deathbed of Maulana Abdul Kadir Muhi-yud-din Gilana. Described as the 'Saint of Saints' he is said to have passed away in Baghdad in A.D 1165, but not before he instructed his son, Taj-ud-din to "settle in India and display to its people the light of Islam." However, it wasn't until A.D.1421 that a descendant of Taj-ud-din reached the Sind, where he convinced the chief of the Samma dynasty Markab Khan, to convert. 700 Hindu families followed their leader. On their conversion, the community was given a new name – Mu'amin or 'believers'.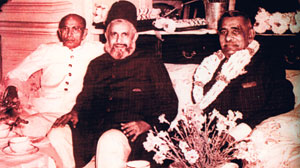 Memons Haji Karim Seth Dhedhi and Haji Saleh Mohamed Sami with the first Prime Minister of Independent Sri Lanka D.S. Senanayake in 1948. Pix courtesy 'Memons of Sri Lanka.'
Other theories argue that the Memons were actually a Buddhist caste engaged in the weighing of precious stones ('mai' meaning one who weighs, and 'man' meaning 'precious stones') or that they were an Arab tribe who constituted the right wing of the army of Bin Qasim, the Arab conqueror of Sind. Dubbed the Maymenah ('rightwingers') they later came to be known as Memons.
Despite their reputation as travellers, today 98% of the community can be found in Colombo and the suburbs, says Mr. Bhaila, explaining that the community often comes together for weddings, which are celebrated in "grand style." Their Indian origins have continued to influence the culture of the local Memons, reveals Mr. Bhaila pointing to the Hindu tradition of breaking a coconut as the new bride first arrives at her husband's house as an example of this. Another example is the tradition of the mehendi ceremony in which the bride to be has her hands exquisitely decorated and dyed. Their cuisine too has much in common with traditional North Indian fare and their language is peppered with words from Urdu and Hindi. Spoken Memani is a dialect of Sindhi and has no script, he adds.
The community subscribes to the Hanafi school and the Memon Hanafi Masjid, built in 1935, can be found in Pettah. Unlike the Bohra community, the Memons do not have a religious head, according to Mr. Bhaila. However, disputes within the community are addressed to a Memon Quazi. This judicial post was especially created to cater to the needs of the local community and is based on the Hanafi school of jurisprudence. In many cases of conflict, elders in the community are asked to arbitrate, and the system has worked so well that Mr. Bhaila cannot remember a case ever ending up in court. Though he describes the community as "conservative," he says that there have been arranged intermarriages, and that many of their women are encouraged to pursue higher education.
It is required by their religion that all Memons contribute a percentage, typically 2½ per cent toward the community. As part of its service, the Memon Association of Sri Lanka collects donations and channels it towards a range of causes, says Mr. Bhaila, adding that these are not necessarily limited to the needs of the community itself. "Philanthropy has been a hallmark of the Memon community," says Mr. Bhaila. For instance, the Association was the first to send shroud material into Trincomalee following the tsunami, having successfully mobilised within a matter of hours.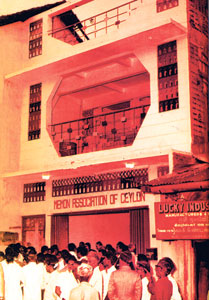 The Memon headquarters
The Association has been in existence for 52 years, and in that time has been known for the support it provides the local community.
From helping pay for the house rent or college fees of those in dire financial straits to organising medical camps and disaster relief, the Association has a wide range of activities. There religious activities include organising the annual Eid-ul-Fitr and Eid-ul-Adha prayers at Galle Face Green.
This year, it is their privilege to host the annual conference of the World Memon Organisation for the second time. Delegates from all over the world are attending. Mr. Sattar Dada, is one of the Vice Presidents of the 7 Regional Chapters of the WMO. He says that the conference will deal with a host of issues.
"We're determined to take it to another level," he told the Sunday Times, adding that "we're now talking about what actions we can take." Between 200 -300 delegates will be discussing how funds gathered from the community should be spent, says Mr. Dada. "We want to eradicate poverty – that's the bottom line," he emphasised, voicing his belief that this could be achieved simply by each community taking more care of its members. "We want to be givers, rather than takers," he said, putting into words what appears to be a cherished virtue among Memons.