That Rozaine Cooray likes to refer to her book by an acronym that sounds like an obscure illness – COTS - might be somewhat daunting. However, her debut novel 'Colours of the Sun' is only 30% psychology says the author, confessing that most of that comes from her desire to explain her character's motivations to her readers. Told in first person, the novel shares "the thoughts, feelings and emotions of a young woman in her desperate search for 'inner liberation' and understanding from a numb society dominated by materialism, routine and prescribed standards," explains Rozaine.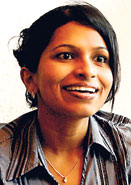 Taking the format of a series of letters between a mother and her daughter, the novel addresses a plethora of themes, including issues of identity, migration, ethnic/religious conflict, generational conflicts, God and dreams, says the author. It also presents a sympathetic perspective on depression – something Rozaine says she has gained over the course of many counselling sessions. "A massive component is dedicated to addressing the depression and disillusionment one may have to go through when running against the wind, against the accepted social norm," says Rozaine, explaining that her protagonist is an artist in an alien land.
The women in the book make their presence strongly felt – for most part because they were the easiest to relate to and to make characters of, she says. Though the manuscript has gone through approximately five drafts, Rozaine took two years to write it, often abandoning it for long periods of time.
When not in the mood to write, the author often doodled, creating intricate sketches that found their way into the book. The character to whom they are attributed is fond of dots and this has dictated that they can be found in great abundance in Rozaine's work. Having been a prolific writer as a young person, Rozaine has herself turned increasingly to poetry and her journal of late.
The poetry too, written while she studied for her degree in Australia and then her Post-Graduate and Masters in Organisational Psychology in Britain, finds its way into the book. She says adapting it to suit the novel didn't prove too challenging as the poetry for most part consists of meditations on the beauty of the landscape and cultures that surrounded her. This is why, in parts, the novel resembles a travel journal, says the author.
Since her character inhabits many of the same geographical spaces as Rozaine herself, she is frequently asked whether the book is autobiographical, but Rozaine says that all similarity ends with the choice of locale. But still, determined to "write from the gut," the author has tried to stick with what she knows best. Describing the novel as heavily tied up with behaviour patterns learnt as a child, she says that these eventually have to be unlearned as an adult so as to "recognize the basics of reality, the essence behind our daily chores and the silence behind the noise that clutters our lives."
With the book about to hit the shelves, Rozaine will be turning her attention back to Forte. The consultancy company has kept this business psychologist well occupied, but she says she eventually hopes to find time to pursue her other loves such as travelling. Priced at Rs.800 and published by PH, 'Colours of the Sun' will be available in all leading bookstores.