The big bright eyes are full of innocence, as he gazes at the lights and the surroundings with curiosity. Giving a big toothless smile, slowly but surely the chubby thumb is taken into the mouth, to be sucked contentedly. The whimpers of tiredness come much later for it has been a long day for him.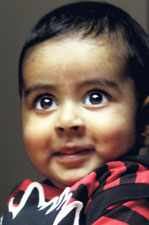 Bright-eyed Shivanka today
The 'Bubble Baby of Sri Lanka' who is suffering from Severe Combined Immunodeficiency Syndrome (SCID) is back, having had the initial treatment from the Apollo Speciality Hospital in Chennai, India.
Sanjana Praveen Shivanka had travelled from Chennai to Colombo with his parents K.B.N. Damayanthi and K.W. Neil Anura Shantha last Thursday and dropped by at the Human Genetics Unit of the Colombo Medical Faculty before going home to Dippitigala, Lellopitiya in Ratnapura.
While his parents are going through his medication regimen and clear instructions to keep him isolated until the treatment course is over, Shivanka attempts to grab hold of my pen while his mother holds him in a seated position on the table. He loses interest after a while and kicks off his squeaky shoes, giving wide smiles.
Then bored with all the adult activity around him, he begins to grumble, finally letting out a loud cry to indicate to his mother that he is not only hungry but sleepy as well. As she rocks him gently, cradling him close, he falls into a deep sleep.
The Bubble Baby whom the people of Sri Lanka took as their own and showered with donations amounting to Rs. 5.2 million through a fund set up by the Sunday Times to enable his parents to take him to Chennai to save him from his life-threatening disease will turn five months today.
Although he is back home now, with SriLankan Airlines providing free tickets for the three of them, the battle is not over. He will have to return to Apollo Hospital in about two months to continue the treatment.
As the country stands on the threshold of a New Year, many, we are sure, will be thinking of "our baby" and wishing him a speedy recovery to lead life as a normal baby.
A saga that started with tears ends in smiles: (Left): Shivanka's crestfallen mother in early May this year; (Middle) Happy parents with baby Shivanka on their return from India this week and (above right) anxious parents at the BIA just before leaving for India for the procedure in September. Pix by M.A. Pushpa Kumara