Let me make a few comments on the very interesting feature article "Salute to an era", that appeared in the Sunday Times 'Plus' on November 28.
In 1966 straight from school I joined an audit firm; After a couple of months training I was assigned to supervise a stock verification at a publishing house in Maradana. In a casual conversation with the beautiful young manageress, when I mentioned that my first name was Kularatne, and I was from Panadura, also that I studied at St John's College , she said, "Oh what a coincidence! I lived in Panadura with my parents, the Kularatnes for a short period in the late 40's where I met my husband Stanley who was an old Johnian too".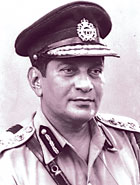 Stanley Senanayake
Maya Senanayake, wife of Stanley Senanayake, former IGP, was managing her father's (late P. de S. Kularatne) business. Understanding my curiosity to get some first hand information on the 62' coup d' etat from the lady who played a pivotal role in saving a democracy, she unfolded in minute detail the events that took place at her residence four years before, on January 27, 1962.
On SWRD appointing 'outsider' Abeykoon as IGP, the writer of the article exaggerating the mild protests, say "there was a huge outcry from the public, particularly from the Buddhist Sangha". Prime Minister Bandaranaike who abrogated the highly acclaimed 'Bandaranaike—Chelvanayagam pact' in '57 over protests by monks, would have certainly given-in if there was a 'huge protest'.
A few monks like Heenatiyana Dhammaloka Thera, who worked closely with Osmund de Silva when he was ASP Kegalle in the 40s, made a little noise. However, it was the Police Department itself, violating service ethics and abusing its powers, that organized agitations, and forced all OICs in the regions to get local businessmen to join in a motorcade to Kataragama, as part of a protest campaign. A serious lapse in discipline unprecedented in the service.
Rtd Snr DIG, Edward Gunawardene writing an appreciation on late Rudra Rajasingham IGP says, I quote, " Osmund de Silva had retired, and a serious crisis had developed with brothers CC and SA Dissanayake and Sydney de Soysa all DIGs with equal seniority, hotly contending for the plum. SWRD the shrewd PM seized this opportunity gifted by the conflict within the department to appoint the man of his choice W. M. F. Abeykoon as IGP." – the Sunday Times Plus (20/ 04/ 2006).
The officers who, as per the article, "wanted to resign en masse rather than work under an outsider", finally bowed down and were seen saluting Abeykoon who knew nothing of policing.
What motivated them to attempt overthrowing the democratically elected government of the day? Edward Gunawardene, ex Snr. DIG has the answer-- "Was the over-riding feeling of loss of power and status that they enjoyed in full measure as the upper crust of the ruling class. They were unable to or refused to comprehend that the pendulum of power had swung to the ordinary masses with the SWRD reforms of late 50s" – the Sunday Times Plus, (24/12/ 08).
Stanley Senanayake was known to be one of the most efficient, humane and understanding officers. He faced all challenges to ensure that even the lowest cop was able to perform fearlessly with a sense of dignity and pride. Strangely he wrestled with his conscience till late that evening - his priorities, loyalty to the state or to the conspiring colleagues and superiors ? His mental agony caught the attention of his wife. Maya, sharp and intelligent took swift action, all credit for changing a nation's history should go to her.
Stanley was not a defendant in the Trial-at-bar, only an witness, hence the question of exonerating him by courts does not arise. I'm afraid Mr Kularatne did not go to the Orient Club to meet the IGP, he only phoned Temple Trees, to convey a message.
The most unbelievable and shocking revelations on the coup d'etat, that came to light a few years later, connecting the names of two ex Prime Ministers who played a role in it, are too complex and rich in detail to mention here, due to space constraints.