Sanjaya Leelaratne, award winning actor, award winning dialogue and screenplay writer for the cinema and also an administrator is back with his long awaited dream of filmmaking.
Titled 'Selvam' a cinematic creation that can be screened from Dondra to Point Pedro, according to its director it is to fill the void of a national film which can be watched by the Sinhalese, Tamils, Muslims and the Burghers.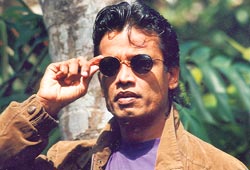 Young Sanjaya in a film scene
The maiden effort by Sanjaya Leelaratne who started his career at school stage, 'Selvam' is a story of a selfless hero in uniform who continues his battle of breaking the racial barriers once he won the war.
'As a country we can be proud of the victory gained by the Army have by eliminating one of the most dangerous terrorist organizations in the world. Not only they ended up the war but also got involved in building up ruined areas of the country,' said Leelaratne speaking to the TV Times.
The film is now being shot in various locations in and around the Jaffna peninsula. 'We want to take this film around the world and use it as a promotion of our country and what we have been doing. For this we will be doing the film using the best technology available and the post production will be done in India and Germany,' he added.
'Sri Lankan cinema was never a failure. It was the films and filmmakers that failed cinema by not attracting the audience. Records prove that whenever there was a good film there was a big audience making box office records,' said Sanjaya in an optimistic note on Sri Lankan cinema said.
'Another most important factor is that the younger generation must take this industry up as they are filled with fresh ideas. Cinema has to be updated and it is the younger generation who are always updated to the new trends and technology,'.
The authorities like National Film Corporation (NFC) must support these youngsters, Sanjaya said.
'Selvam' in Tamil means prosperity and having undergone three decades of a bloody war what we now want is prosperity,' describing the selection of the title the new director stated.
Born and bred in a Colombo suburb, Polhengoda, Sanajaya started his acting career at the school stage and later acted in well-known stage plays and started playing his maiden role in the film 'Hithata Dukak Nethi Miniha' in 1990 when he was introduced to the big screen by Mervyn Jayatunga. He went on to act in 16 films while writing the screenplays for the same number. Sanjaya is also a teledrama actor who acted in more than 40 teledramas. Once his anti-tobacco TV commercial was recognized internationally winning him a number accolades and honours.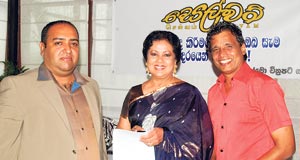 Producer M. Mohamed, Malani and Sanjaya
In addition to being an actor and screenplay writer, since 1994 joining state service Sanjaya had been holding a number of responsible positions in the state sector institutions including the Timber Corporation, Lanka Salusala the National Paper Corporation and Elkaduwa Plantations. Presently he is Deputy Chairman of MILCO (pvt) Limited run under Ministry of Livestock and Rural Community Development.
'Selvam' is produced by M. Mohamed while Jayanath Gunawardena is the cinematographer and Ranjith de Silva is art director and Rohana Weerasinghe is the music director. Music direction for the playback is by Ranga Dasanayake while Uresha Ravihari does the playback singing. Executive Producer is Dr. Mohan Lal Siribaddana and production manager is Nimal Padmasiri and assistant director is Thilina Boralessa.