The bedroom is a place where a husband and wife spend close to 8-10 hours in. Thus the energy in the room heavily affects them. Even on television when a bedroom is depicted, it is shown as neat and as spotless as possible. It is therefore important to keep your bedroom neat and clean in order to attract good energy.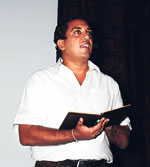 Master Consultant Feng Shui Asiri Wanigaratne
Here are some tips by Master Consultant and Master Practitioner Feng Shui from Mastery Academy, Institute of Feng Shui (WOFS) and Yap Cheng Hai Academy Asiri Wanigaratne to prevent bad energy lurking in the bedroom.
Remove all rubbish in the bedroom. Clean out your clothes cupboard by removing all old clothes you no longer use and give it away. Clean out all drawers. A happy, light feeling can be felt after this.
Keep the space under your bed free from stuff. Mental stress can increase if there are things collected under your bed.
If your bed is positioned under a beam and you sleep under it, the togetherness of the husband and wife can be broken and they can slowly part. Health is affected as well.
Do not bring your office work into the bedroom. By doing official work in the bedroom the marriage bond can weaken.
Never bring exercise machines into the bedroom either.
Do not have any type of water in the bedroom, like fish tanks or fridges. This will cause the physical relationship of the husband and wife to deteriorate. There is no harm in having a glass of water in the room however.
Sleep on one mattress, not two put together.
Keeping natural plants in the bedroom is not advised. This can cause unnecessary fights between husband and wife.
When sleeping it is not good to see each other in a mirror. If you have a mirror close to your bed cover it with a cloth. Seeing your reflection while on bed can cause extra-marital affairs.
It is better not to have a Television in your bedroom. Feng Shui masters do not advice it because the concentration of a husband and wife goes more towards the TV than each other. If you have a Television in the bedroom, cover it with a cloth before you sleep.
Visit our website:
www.fengshuilanka.com
Head Office
Feng Shui Collection
No. 29A, S.De.S. Jayasinghe Mawatha
Kalubowila
Dehiwala
TP - 011- 5721733
Mt.Lavinia Branch
Feng Shui Collection
No. 539, Galle Road
Mt. Lavinia
TP - 011- 4909505