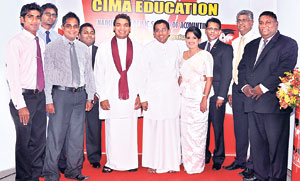 Today is a gilt-edged day for us at NASA. It's that important moment when we prepare to celebrate excellence in professional higher education with the opening of the Nadijith Academic School of Accounting (NASA), a professional higher education institute with a difference!
We warmly welcome our guests, Minister Johnston Fernando, MP. Namal Rajapaksa MP. Dilum Amunugama MP. Nilwala Wijesinghe, Governor Sabaragamuwa Province W.J.M. Loku Bandara, Bradley Emerson CIMA Regional Director & Miss. Anarkali Akarsha who with their presence have inspired and encouraged us to face the challenging task ahead… the task of producing professionals the country would be proud of.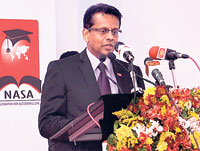 We know you the youth of today have been waiting for this day when your aspirations of acquiring a professional higher education which can be benchmarked with international standards would be a reality. Being at the crossroads of your life the choice you make today will decide your tomorrow. Come join hands with NASA on a journey of meeting tomorrow's higher education challenges whilst preparing for a rewarding career.
The Nadijith Academic School of Accounting (NASA) is a registered CIMA institute offering Quality Professional Education, exclusively for CIMA studies. Our unique approach to the 'teaching - learning' methods is what makes us different from the rest.
Call Hotline: 0727 664554 or visit us at our convenient location at # 615/A, Nawala Road, Nawala, Rajagiriya. NASA… "Foundation for Successful Life"