Lakshitha Perera a student of Trinity College Kandy is now completing his second year of studies at the University of Adelaide. An all-round student and a prefect at Trinity, he passed the GCE A/L with 4 "A" Grades and was eligible to enter any University in Sri Lanka to study Management. However he opted to study abroad due to the exposure and the diversity that couldn't have been achieved studying in a Sri Lankan university.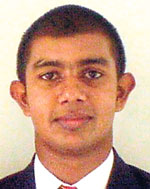 Lakshitha Perera
His father being a Chartered Accountant inspired him to take up accounting as a career. He studied and excelled in Commerce at school. He was keen to join the workforce in the country where he would do his higher studies to gain international work experience and found out that there is a vigorous demand for Accountants in Australia. Thus his obvious choice was to select an Australian university.
Having contacted Edlocate's Kandy office initially and thereafter counsellors at their Colombo office, he decided on the University of Adelaide. The counsellors at Edlocate assisted Lakshitha to apply for a placement and recommended that he be considered for a scholarship from the School of Commerce at the university because of his excellent A/L results.
The scholarship was granted and Lakshitha entered the university at the second semester of 2009 to follow an undergraduate course in Commerce (Accounting) - one of the most desired courses at the University. He has no regrets in selecting Australia to do his studies. He has found the people to be very easy going and friendly especially at the university where the lecturers and even the school heads are very helpful, approachable and accountable.
The future plans regarding his studies - He is doing well in his studies. He won the Executive Dean's Award for the outstanding academic achievement during the first semester at the University. He is planning to major in Management as well, since the selection and transfer of courses are very flexible.
Is Lakshitha only studying like a "book worm"? No. At Trinity he did sports and represented Sri Lanka at the 4th Asian Age Group Swimming Championships in 2005.
He captained the College Chess team. He was awarded school colours for swimming and chess. Whilst continuing these extra curricular activities, like all international students he is also currently working part-time as a Trainee Accountant in an Accounting firm in Adelaide. In 2009 the University of Adelaide organized a competition to select a name for their new Business school building and the name given by Lakshitha - Nexus - was selected. This name will be there forever. Lakshitha was rewarded with a Laptop Computer for this.
What are his views about studying in Australian universities? University life as international students gives a lot of freedom and scope than in Sri Lanka. The students are not treated as mere bodies to be given a degree and sent away. The lecturers are committed and very helpful in all aspects. The state-of-the-art facilities and online learning facilities are exceptional.
His advice to SL students keen to study in Australia - Since Australia offers residency and work in Australia if you become a professional with a skill highly required, it is best to select a demanding course to follow in line with one's abilities. Get proper guidance.
While Lakshitha is grateful to Edlocate for guiding him to make his life a better one, he has a special word of thanks to their staff at the International office who come forward to willingly assist. That he says is "Super Service".