As a leading private education provider in the fields of Information Technology, Business Management and Engineering, Singapore Informatics Computer Institute believes in catering not to the popular choice of subject but to the need of the hour.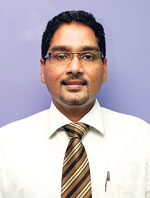 Mr Boshan Dayaratne Director/General Manager - Singapore Informatics Computer Institute (Pvt) Ltd Sri Lanka.
"Taking post war Sri Lanka into consideration as well as the prevailing and expected economic boom in the country, there is a serious gap in what is expected and what can be provided. This gap is what Singapore Informatics hopes to bridge through four projects lined up" said Mr Boshan Dayaratne, Director/General Manager - Singapore Informatics Computer Institute (Pvt) Ltd Sri Lanka.
The first of these projects is a tie up with the Chartered Institute for Securities & Investment (CISI). Through this, Singapore Informatics has become the first such comprehensive accredited training provider in Sri Lanka for CISI qualifications. Based in London, CISI evolved from the London Stock Exchange and has now spread its wings globally and works in close collaboration with many other professional bodies. The qualifications offered by CISI are professional, practical and global, and are therefore in great demand by those in the industry.
Of the diverse range of qualifications offered, Singapore Informatics has opted to focus on eight areas, initially. This is because the selected paths deal with the areas that are most required in the present context of Sri Lanka's economy.
The International Certificate in Wealth Management (ICWM), is ideal for private banking and wealth management staff. Although this area is marginally dealt with in various other schemes of study, there has up to now been no qualification that directly dealt with this area of expertise. Through this programme a thorough and specific knowledge on how to deliver wealth management advice can be achieved.
The Islamic Finance Qualification (IFQ) is one which has many benefits for Sri Lankans. This method of banking is fast gaining popularity especially in the aftermath of financial downturns in the recent past. It is also an essential qualification for any financial sector employment opportunity in West Asia. As these qualifications are global, students stand to gain a lot of return from this.
At present it is no secret that the Colombo Stock Exchange and other Securities and Investment sectors employ a talented group of people who are able to predict the turn of the market very well. However, how they do this is often based on gut feeling. They often cannot express how they analyze the market. This is not a steady foundation on which to base a crucial financial service. This gap is what the International Introduction to Securities and Investment seeks to fill. It is ideal for all those working or hoping to work in this sector, irrespective of designation.
The Risk in Financial Services Qualification as well as the Operational Risk Qualification provides a framework in which students can understand how to identify various risks in each sector and how to mitigate it. It is a common misperception that risk is a threat. This is not always so and the knowledgeable and wise employees who have gained this qualification will understand how to turn bad risks into great opportunities. All levels of management personnel will benefit greatly from these two programmes.
In today's global field the world wide web and technology itself has become not only a radical means of development but has also brought with it a broader spectrum of known as well as unknown threats. The Global Security Operations Qualification (GSO) enables students to learn to guard against these potential harms.
The IT on International Operations Qualification (ITIO) meanwhile develops the IT knowledge and understanding of those in the financial sector, especially investment. The Asset Servicing Qualification provides a fundamental understanding on the subject in terms of Operations and Administration. These are rapidly becoming areas where a proper qualification is a must in order to enable the efficient, effective and secure functioning of the financial service sector. Employers in the industry too now look for job related qualifications when filling in vacancies.
Thus Singapore Informatics believes that these qualifications which can be earned through unconventional methods of education will greatly benefit Sri Lanka. Each of these is a 3 month programme, at the end of which there is an online examination where a student can within 5 minutes know their result. The official certification will follow in 48 hours.
The lecture panel is based not on academics but professionals already in the field who are capable of offering vast practical knowledge in conjunction with the course requisites. These include the likes of Mr Angelo Patrick, Group Director - Maharajah Organisation Ltd, Mr Indrajith Fernando, Director/CEO- Bartleets Transcapital Ltd, Mr R.M.P. Ratnayake, Chief Manager International Operations - HNB Bank and Founder CEO - HNB Securities Ltd, Mr Danushka Samarasinghe, Manager Corporate Planning- Alliance Insurance Lanka Ltd., Mr A. Mohamed Mihlar, Director Studies - Amana International School, Course Director Islamic Banking and Finance- Asia Pacific City Campus, Dr. (Mrs) Dilushi Dabare, Manager Credit - Seylan Bank. These distinguished members of the lecture panel are some of the best in the industry.
The first batch for these essential new qualifications will begin in October and applicants will be entitled to a 20% discount from lecture fees as a privileged introductory offer. There will also be a 50% discount for students and 25% discount for industry professionals on the examination fees.
For more details and further information please contact Mr. Amintha De Silva, Project Manager on
0774 416655, 2 699898 (hotline), aminthadesilva@informaticseducation.com - Shanika Perera