NIBM, a leading institute for higher education in SL inaugurated the BSc.MIS and Management batch of 2010, in collaboration with University College Dublin, Ireland. This is the 14th batch of this prestigious degree programme designed for students interested in pursuing a career in Management and IT. The inauguration ceremony took place on September 8 2010.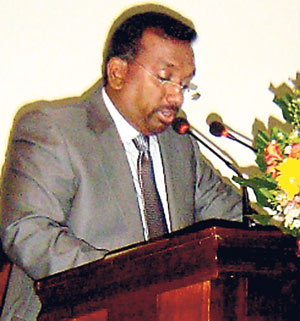 Mahindananda Aluthgamage
Deputy Minister of Youth Affairs Mahindananda Aluthgamage, was the Chief Guest at the event and Dr. Uditha Liyanage, Director PIM delivered the keynote address. He congratulated the incoming batch of students wishing them a successful journey, and presented his views on the undergraduate life of students and the key aspects of learning in the process of gathering knowledge.
NIBM launched this degree programme in 1996 as a special degree programme which was accredited by University College Dublin, Ireland. NIBM has enrolled 400 undergraduate students from the year of commencement for this 4 year degree programme. The students who pursued the degree in MIS and Management at the NIBM currently hold leading positions in the IT and Business sectors not only in SL, but worldwide. The students have also pursued Master's and PHD programmes in IT and Management after completing their degree at the NIBM.
Students who join this prestigious institute for their higher education can obtain an all- round education. The institute serves both public and private sectors with an all-round education to build and boost the skills of school leavers, employees and all who hold other alternative qualifications.
The lecture panel at NIBM consists of qualified and experienced lecturers who employ a diverse range of teaching strategies including presentations, projects, group work, discussions and assignments. NIBM also has an excellent campus environment with state-of-the-art library and well equipped laboratories.
NIBM invites you to build your competencies and be a part of their success story. -Rehana Ferdinando