One and a half years is not enough, and more time should be given for the foreign investors to decide to invest in Sri Lanka -- was the response by Sujeewa Mudalige, President, Institute of Chartered Accountants of Sri Lanka (ICASL), when asked by a journalist as to why Sri Lanka fails to attract foreign investors even after the war ended 18 months back.
A press briefing was held in Colombo this week to announce the holding of the 31st ICA National Conference from October 28 to 30. The conference theme this year is "The World sees Opportunity in Sri Lanka."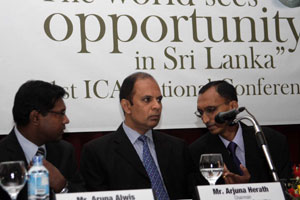 Mr Mudalige said that the conference would bring together the knowledge, expertise and experience of a panel of high profile speakers from both the local and international arena. He said last year there were around 1,000 participants and this year they expect more than 1,200 participants.
The conference would discuss such topics as: Sri Lanka – The way forward and the Role of Professionals; Opportunities and Challenges in the Green Economy; Attracting Foreign Direct Investment – Opportunities for the Sri Lankan Corporate; Risk in today's Board Room – The CFO, The CEO, The Auditor, The Chairman; Business sense of IFRS – Opportunities to derive and Recent Business Failures and its impact on Economic Revival.
Mr Mudalige said that the accounting profession is very important and valuable and there is no difficulty in finding a job for accountants. Those who study accountancy need not wait until they complete, but at various stages they could readily obtain employment. He said that these Chartered Accountants are in great demand and almost half of their members are employed in abroad.
He said that ICASL is a government body, but unlike the other government managed higher educational institutions, ICASL has not become a burden to the government as all expenses are covered by student fees and member subscriptions.
He told the Business Times that 100,000 qualify for the university education out of 250,000 who sit for the GCE A Level but only 20,000 are absorbed to the universities. But at ICASL as a single body, the annual intake would be around 10,000 and they have already opened up branches in several key points in the country, including Jaffna.
He told the BT that they have submitted a proposal to the Ministry of Higher Education to open up another unit of ICASL to provide education to produce graduates in business management and allied fields so that they could absorb another chunk of those left out.
He said that they have asked the authorities to provide them with land and other necessities so that they could offer residential facilities too while providing education. He said that they are confident that the government would respond positively on their proposal.
He said that such graduates could find employment easily as every average enterprise needs somebody to deal with their financial and accounting matters such as filing tax returns, etc. Further, these graduates would find a ready job overseas.
Responding to another query from the media in relation to Sri Lanka losing GSP+ concessions and the government repeatedly antagonising traditional, friendly countries and in such a scenario how could the country expect foreign investors to come to Sri Lanka, Mr Mudalige said that Sri Lanka would find some difficulty as there are also other similar countries opening their doors to foreign investors and thus Sri Lanka has to meet such competition. He said that in their conference these matters will also be discussed.