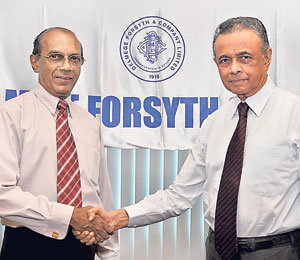 Picture shows Dr. Godakumbura and Mr. Mendis
Delmege is supporting a renowned project -- Dr Wijaya Godakumbura's 'Safe Bottle Lamp' Project, the company said this week. The company will provide 30,000 lamps over a period, as part of its CSR initiative.
"Delmege is conscious of the role that a corporate has to play in society and we have sponsored a variety of causes, as part of the Groups CSR initiative. We understand from Dr Godakumbura that his project is one that has saved a number of lives and his lamps have been approved by the WHO, Unicef, International Society for Burn Injuries, National Committee for Prevention of Injuries, the Sri Lanka Medical Association and many other such associations, therefore we are pleased to be associated with such a life saving project," said Chairman Delmege Group, F.G.N. Mendis.
Dr Godakumbura said that only 82% of families in Sri Lanka have electricity, while in four districts it drops to below 60%. "Many people use makeshift, unsafe lamps out of burnt out bulbs, and bottles which tip over easily, causing extensive burns, which result in excruciating pain and much scarring, sometimes with blindness and loss of fingers. Those with severe burns die. We launched our campaign in 1992 and have so far replaced 800,000 unsafe lamps with our safe lamp," he said in the statement.