The annual Farmer Awards organized by the National Agribusiness Council and launched in 2006, was this year held on August 22 at the BMICH concurrently with the Ag-Biz Trade fair.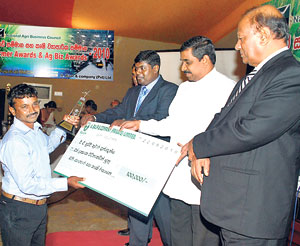 An award being presented
"It was a very successful event with large number of applications from the North & East farmers with the prevailing peaceful situation in the country. This really encourages us to continue the event in future," said the Secretary of the National Agribusiness Council Rohitha Nanayakkara in a statement.
Deputy Minister of Agriculture Jagath Pushpakumara was the chief guest at the Farmer Awards ceremony. The Best Farmer D.A.S.Kumara Dandeniya from Dambulla received a Gift Voucher from A.Baur & Co, the sponsor of the award, to the value of Rs.100,000/. First Runner up, A.P.Roja Sritharan from Mannar received a Centric Type Pumping Unit and the second Runner up, P.H.Ranjan from Hambantota received a TH 2T Thresher which was donated by Jinasena Pvt Ltd.
District winners received a plaque & certificate. In addition each winner received a CDMA phone donated by Sri Lanka Telecom and a gift voucher for the purchase of vegetable seeds from Best Seeds Co. Ltd.
The farmer applications were evaluated by a competent panel of agriculturalists from the private and public sectors. Based on the information provided by the applicant, farm visits were made to the potential winners' fields and on the spot evaluations were done by the panel members.