The Colombo share market is at present overvalued, but one can still find many undervalued, fundamentally strong stocks in the market to invest in, analysts say.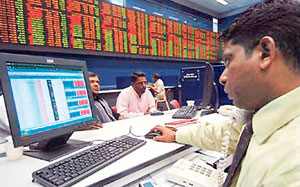 Hot sectors
"Food and Beverage sector firms are an obvious one," an analyst said, adding that with consumer demand and per capita income on the rise shares this sector will be one to watch out for. "The banking sector with the economic recovery, more credit lending and if the expected tax reductions come about it is yet another sector one can invest in," she said.
She noted that shares in the manufacturing sector with the infrastructure drive and the low interest rate environment will also do well. She added that in the case of the tourism sector, the real benefit will be coming in 2012-2013explaining that mergers, acquisitions and consolidations will definitely provide opportunities for the stock market.
Rakshitha Perera, Manager Research Bartleet Mallory Stockbrokers agreed, saying that the market is still very much undervalued.
No more hype
"What we have seen so far (in the market) is more of regaining lost ground and building of hype. It is only now that the economy is beginning to take shape. Interest rates are low and the market is the obvious place to make the required return," he explained.
He noted that for instance, the banking sector has seen significant price movement but still there has not yet been credit growth in this sector. "We expect significant credit growth towards early next year in this sector, which is why we see value in the sector," he added.
All about numbers
He also added that the price to earnings ratio in the market and market capitalisation to the gross domestic product is still at a low extreme.
"Another point we need to understand is that the market multiples are on historical earning and forward earnings it is at a discount. In addition, we must note that times are changing and it is only now that the Colombo bourse has had a chance to operate under normal circumstance (no war and less volatility) and has resulted in great emphasis on equity research," he said.
He added that investors are now eager to understand the business and their valuations. "For instance, a high net worth investor would be worried about a firm's operating cash flow, one-off items, disclosure provided on quarterly basis, changes in accounting practices and management clarity," he said. He noted that valuations play a vital role and in the current context and at present, the relative valuations are too basic in portraying the true value of firms. "Therefore we think that absolute valuations are the way forward – free cash flow analysis, etc," he said.
Mr. Perera also noted that there're many undervalued counters in the manufacturing, food and beverage, diversified, banking and trading sectors.
Bourse in transition
Milinda Ratnayaka, Analyst SMB Securities said that right now the bourse is in a transition period where undervalued shares are much harder to come by because of steep price appreciations. "Interpretation of valuations varies from one analyst to another depending on their company forecasts, some maybe even reluctant to divulge trading tips. But we can all agree on one share that is considered the most undervalued and is commonly known amongst us and that is Seylan Bank - Non Voting," he said.