Sri Lanka's hi-octane stock market will reach new horizons with the entry of the global financial services giant Religare Enterprises Limited (REL) in a milestone strategic alliance announced this week with Bartleet TransCapital, according to a statement from Bartleets.
The New Delhi-headquartered Religare Groupwhich serves over a million clients including corporates, institutions, high net worth families and individuals and retail investors in Asia, Africa, the Middle East, Europe and the Americas, plans to establish is footprint in Sri Lanka initially in stock broking by taking a 50 per cent stake in Bartleet Mallory Stockbrokers (BMS), the announcement said. The transaction is subject to regulatory approval.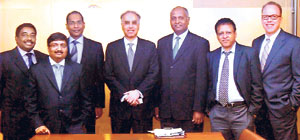 At the signing of the agreement (from left) : Messrs Chanaka de Silva, Legal Counsel for Bartleet, Shachindra Nath, Group CEO-Religare Enterprises Ltd, R. Muralidaran, Managing Director/CEO-Bartleet Mallory Stockbrokers (Pvt) Ltd, Sunil Godhwani, Chairman/MD-Religare Enterprises Ltd, Indrajith Fernando, Director/Group CEO-Bartleet TransCapital Ltd., S. Amarnath, Director-Religare Commodities Ltd and Russell A. Stamets, President & General Counsel-Religare Enterprises Ltd.
Bartleet Mallory Stockbrokers which is fully-owned Bartleet TransCapital has decided to increase its share capital to accommodate Religare Enterprises, it said. "The partnership will bring in best practices in non-banking financial services including broking operations to the Sri Lankan market and leverage Bartleet's established brand reputation, client relationships and market leading stock broking presence in Sri Lanka to attract more international investors to the Colombo Stock Exchange and to facilitate an extension of services to regional markets such as Bangladesh, Maldives and Pakistan," Bartleet TransCapital Chairman, A. S. Jayawardena said.
It will also result in Colombo being integrated into Religare's global network of investment banking centres across emerging markets and London and bring to the attention of international fund managers the increasing opportunities in well-managed Sri Lankan companies.
Commenting on the partnership, Religare Group CEO Shachindra Nath said: "With the upsurge in economic and capital markets indicators over the last one year, Sri Lanka is a key market for Religare, especially considering its proximity both physically and culturally to India.
We are delighted to bring such an impressive team into the Religare fold that would add considerable depth to our South Asia investment banking and stock broking business."