Girl Guides, as many as 100, from all over the country will converge in the south and then head to the north in true Guiding spirit to help set up libraries in three schools in Jaffna.
'A journey of 100 friends' to commemorate the centenary of the World Association of Girl Guides and Girl Scouts this August will culminate in the Guides assisting the Nanapiyasa Library Project of the Disaster Management Committee for libraries, information services and archives set up by the National Library Documentation Centre of Sri Lanka, IFLA (International Federation of Library Associations) and UNESCO said Communications Director Shaleeka Abeygunasekara. "The aim of the journey is to strengthen the existing fellowship ties between Girl Guides in the north and south."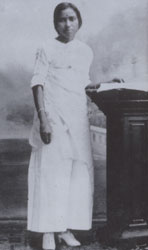 Intrepid Guide from the north: Ponnammah Arulampalam
As the Guides head to the north in their numbers, will anyone remember the first "minority native girl" to become a Guide Captain and lead the 4th Jaffna Company Guides? Eighty-eight years ago, in 1922, it was Ponnammah Arulampalam, "small and courageous" according to her daughter, who made her journey, the other way round, to Colombo for the first All Ceylon Girl Guide rally, an initial event of the Sri Lanka Girl Guides Association (now 35,000 strong) which had been born in 1917.
Toting a rifle, for this slip of a 23-year-old girl not only had to be conscious of her safety but the entire troupe from Jaffna, Ponnammah guided them to Colombo for the rally which was held on October 4, 1922, says daughter Navamany Selvarajah, who heard many stories from her mother about her life as a Guide.
Ponnammah who was then teaching at Ramanathan College, Jaffna, had come along with her students to Colombo to march, says Mrs. Selvarajah, retired Professor of Zoology, University of Jaffna.
Clad in a white half-sari, her mind on the drill, Ponnammah along with other Guides lined up on the grounds of Queen's House (now President's House) and prepared to give the salute to none other than the Duke of Gloucester, uncle of Queen Elizabeth II.
She was out there all by herself, away from family and home. That day was etched forever in her mind. She and other Guides had practised and trained tirelessly, recalls Mrs. Selvarajah.
Ponnammah had enrolled as a Girl Guide just three years after the Girl Guides' Association was established in Sri Lanka by Lord Baden Powell himself. She was later transferred to the Girl Guides Company 4th Jaffna, permitted by none other than the erstwhile Island Secretary E. C. H. Barrow, as Ceylon was then under the British.
Guides from Jaffna had outshone others at the rally and added glamour to the scene by donning the white half-sari while others were attired in khaki, blue and white, newpapers of the time reveal.
The rally had drawn Guides from different parts of the island including Galle, Matara, Kurunegala, Badulla, Batticaloa, Nuwara Eliya, Matale and Panadura, in addition to Jaffna.
This blending of cultures from around the island had provided an opportunity to Ponnammah and others from Jaffna to forge lifelong friendships, as they mingled during activities other than marching.
Collecting money to get a teak set and a table, intricate furniture made by prisoners, the Guides had then sent them as gifts to Foxlease, the training and activity centre of Girl Guides near Hampshire in Britain.
"It has arrived here safely and will be a great addition to the Rose Garden. It is so beautifully solid and good and will last forever and always remind us of all of you, our sister Guides in Ceylon. It is so lovely just having it in time for the World Guide Camp," states Miss Behrens, Guide-in-Charge at Foxlease, in a thank-you letter to the local Guides.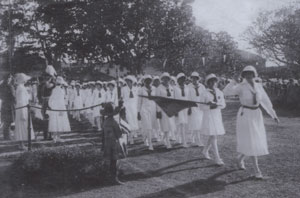 Guides march at the first All Ceylon Girl Guides Rally on 4th October 1922 at the Queen's House Grounds, Colombo. The contingent of 4th Jaffna Company stands out as they are wearing half sari (below).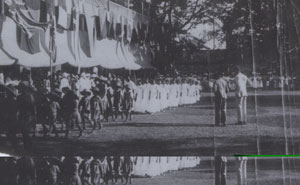 All these nuggets of information taking us back into a past long forgotten have been treasured and lovingly saved as yellowed news clippings and frayed documents by none other than Mrs. Selvarajah.
It was also at that momentous Colombo rally that Ponnammah's friendship with then Girl Guide Chief Commissioner Bella Woolf began.
Incidentally, in addition to being a writer herself, Bella was the sister of political theorist and author Leonard Woolf of 'The Village in the Jungle" fame. Leonard Woolf was also part of the Ceylon Civil Service and worked as Assistant Government Agent in many areas in the country.
"To see the world in a grain of sand and heaven in a wild flower; hold infinity in the palm of your hand and eternity in an hour," is what Bella Woolf wrote in Ponnammah's autograph, testimony to their enduring friendship.
For Ponnammah, that Colombo rally had been an adventure that left her fulfilled but thirsting for more of which she had spoken frequently to Mrs. Selvarajah throughout her childhood.
Ponnammah passed away in 1988.