Stitch your eyelids shut. An ominous title if there ever was one. But don't let that fool you. Vivimarie VanderPoorten's latest collection of simple, refreshingly non-preachy and at times gut-wrenchingly graphic poetry will leave you scratching your head and thinking, "hey, that's my story."
But Vivi (as she is called by almost everyone who has met her at least once) will tell you that it's not her; it is just the power of words that leave you with that impression, she will insist. A power she has truly mastered and made her own. But she will have none of that. "Maybe I just have a way with words, I guess," she will say, quite modestly.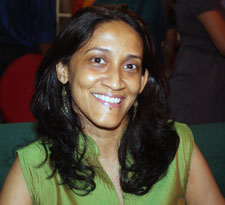 The author at the launch of her book Stitch your eyelids shut.
I may not exactly be the most qualified person in the world to review a poetry book, but I shall give it my best shot. After all, Vivi's work can be read, understood and, I dare say, enjoyed by just about anyone. It is strangely populist that way… I think.
Anyway, let's get right down to it. In Equal Wor(l)d, a poem that takes us back to her feminist days (she used to be an ardent feminist many years ago, baggy shirts and all, she once told me), Vivi demonstrates just how meaningful and effective simple, everyday words we take for granted can be. An extract:
"Give me a world of words
where woman is merely
the opposite of man
where a governess governs
and a man who
dares to have more than
one lover
sometimes risks being called
a sl*t
give me a world of phrases
inhabited
by
eligible spinsters
and sour bachelors
where successful women
were ambitious not aggressive
where loud-mouthed men are
called fish husbands
a world
where she climbed the corporate ladder not slept her way to the top"
Charming, yes?
She can be funny too, although her humour might come across as somewhat tongue-in-cheek, at first glance (not that there is anything wrong with that).
The last line of that same poem, Equal Wor(l)d, reads: "Give me a lexicon/ where a Matron is just like a Patron/ Only prettier." Ouch.
As Indran Amirthanayagam correctly points out in the foreword to Eyelids, Vivi is not afraid to let loose and use popular song titles and even hackneyed clichés in some of her poems.
In Perfectly Vain Clichés, she writes, "Because of you/ I want to be/ perfectly vain… get Botox injections/erase laughter lines… (and then you go and spoil it all by saying something stupid like I love you)/just the way you are."
Cringe worthy, perhaps, but in this writer's humble opinion, this shows a bold willingness to not conform – which can only be a good thing.
It's not all fun and games, however. A majority of the 63 poems published in Eyelids speak of a darkness, not necessarily the author's own, that has shaped the lives of her loved ones in particular, and Sri Lankans in general.
Love, Displaced, written in July last year, is in the point of view of a girl trapped in an IDP camp, not knowing the fate of her significant other.
"If I only knew
you were all right
or even just okay
or less than all right
but alive
I could survive
in this –
this place
where now there are shops
clinics
even makeshift toilets
and tampons distributed
by companies with
corporate responsibility
…
"If only I knew you were
alive somewhere
then I could wait forever
to be out of
here/where
kindness
is injected in small doses
and love is
a warm cup
of nestomalt
offered by bewildered hands"
Some of Vivi's poems are deeply personal and are painful to read, in a weirdly attractive way – which we shall leave for the reader to discover. But there is something about all the gloom and doom in her poetry that leaves you utterly captivated.
Perhaps there is beauty in sadness, as she tells us in Give me okay. Or maybe we're all just masochists and sadists at heart.
"yes, of course there's
beauty in sadness
what use would it be
surely there must be
some compensation
for pain
has its
moments of splendour
but as I say goodnight
to you
I am not ready to surrender
to beauty's demands
I will love you tomorrow
if beauty's the price
I have to pay
then give me 'okay'
give me 'nice'
No need for a peacock's
Parade
I will settle for ordinary
a brown babbler waiting for its mate in the rain."
Stitch Your Eyelids Shut was launched on July 30 and copies are now available at the Barefoot Gallery, Colombo.