Shanthi De Silva's paintings do not allow you to simply glance over them. The moment your eyes set on one of his water colour paintings you will find yourself instantly transfixed. What grips you is his captivating style of combining realism with the abstract.
The collection is aptly titled 'Struggle'. The 'Struggle' is a two-way process; one, the conflict within the painting between the two forms of art realism and abstract, and the second- between the painting and the viewer, as you attempt to interpret the paintings.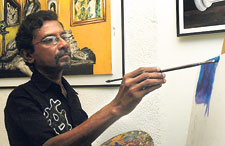 The artist Shanthi
Shanthi himself admits his work is not limited to realism or abstract. "My paintings linger somewhere in between the two art forms, creating a sense of struggle or conflict between the realistic depiction in a fantastical situation.
So there are at least two elements within the painting that are incompatible. The unresolved tension between these elements provides each of them with a dramatic bearing," he says.
Each of his paintings is thought provoking and will challenge the viewer to draw their own conclusion of what is depicted on the canvas. To ensure that the viewers' thoughts are not dictated to or assisted, Shanthi has chosen to leave his paintings untitled.
'Struggle' will be his first exhibition although he has been painting since he was in school. With work taking up most of his time, he put his passion for painting on the back burner.
Now, however, Shanthi has produced 12 provocative pieces of art work. Having worked in the creative section of advertising at Q & E Advertising, he says that while "advertising can be artful, it isn't art in itself", which is what compelled him to pick up his paint brushes after a protracted hiatus. "Art unlike an advertisement does not necessarily need to have a clear message that will strike someone instantly," he says.
The exhibition is also a first for the agency as well. Held within the Q&E office, CEO Dilrukshi Wijeyekoon says the space is ideal for small, intimate exhibitions that highlight home-grown talent, whether it is Q&E staff or local artists. They hope to host many more exhibitions in the future, she says.
The exhibition and sale of Shanthi De Silva's paintings will be on Friday (August 13) from 10 a.m. to 7 p.m. and Saturday (August 14) from 9 a.m. to 6 p.m. at the lobby of the Q&E Advertising office- No. 125, Kynsey Road, Colombo 7.