She's the sort of person who will wake up bright and early each morning, raring to get on with her plans for the day - plans that have been meticulously thought out and most probably recorded in her online journal.
It was my friend, Manel, who told me that her elder daughter, Nilmini, was taking a sabbatical in order to realize some long- cherished travel plans.
Born and bred here, Nilmini de Silva and her sister Lakmini, attended Ladies' College, Colombo. Nilmini went on to the Moratuwa University to qualify as a Civil Engineer who specialised in water management. She worked for the International Irrigation Management Institute for six months.
In 1987 she went to read for her Master's degree at Berkeley University, California, where she met Dean, the Englishman she later married. Nilmini stayed in California for nine years and worked for the Federal Emergency Management Institute that dealt with all types of disasters.
She was engaged in what she called "Flood Mapping" and she related with enthusiasm what her work entailed.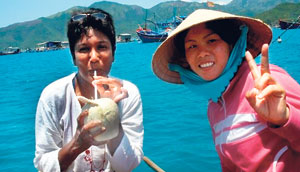 Here Nilmini is being ferried by a local Vietnamese lady after visiting the islands off Nha Trang - she is seated in the `tub', sipping the local coconut.
Her father, the late illustrious President's Counsel, H.L. de Silva, had then come to New York as Ambassador to the UN and Nilmini had the joy of spending precious time with her parents while Dean and she planned their next move.
The couple back-packed their way through Western Europe and the UK before they resumed work again – this time in South Korea where Dean, who had specialized in Linguistics, obtained a post to teach English in an university.
Nilmini too went to Korea to a town called Taegu, to an institute where she taught conversational English to a varied group, from small fry of six years to adults. Dean and she taught in Korea for one year, during which time both of them learned to read Korean.
Then they let the wanderlust overtake them once more and spent four months travelling in Asia – India, Nepal, Thailand – after which they came to Sri Lanka to await their visas for Australia, where they had applied for immigration.
They went to Australia in 1998 and settled in the suburb of Hornsby in Sydney, NSW. Within the year, Nilmini found work with the Fairfield City Council. Today, she is Natural Systems Manager at the Fairfield City Council where she began working 12 years ago.
There's no doubt that she finds her work absorbing, for her eyes lit up as she spoke of projects which showed the imagination and foresight with which local authorities Down Under tackle rivers and waterways that pose a potential risk of flooding and causing destruction.
Nilmini made the time to follow a four-year-course (not one that demanded daily attendance at lectures, though), that led to her obtaining her diploma in Local Government Management.
Later, the university asked her to develop a course in Flood Risk Management. She is also a guest lecturer at the Dept. of Civil Engineering in Hornsby.
Currently, she has taken what is called a Gap Year from her work in order to realise her dream of "An year spent stepping outside the established routine of my comfort zone to explore the realm of fresh possibilities along the road less travelled."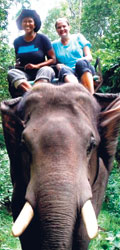 Riding an elephant with fellow-traveller Emily from Texas, to reach
the last hill tribe village in Thailand
Nilmini's aim was to spend three months on every continent she visited, except for Antarctica – a longtime dream - where she will have only three weeks. She touched, with regret, on the breakup of her marriage, but Dean and she parted amicably and after a brief period of introspection Nilmini got on with her life.
She wanted to see if she could travel the world alone. She joined a volunteer group called "Engineers Without Borders" and first travelled around Australia and then went further afield to South America and to Africa.
"I found that solo travel is better in a way, since you have the time to get to know people at a far deeper level." She launched on her Gap Year by going first to Cambodia where she took up a position to teach English in an orphanage that was housed in a farm. "No electricity or running water and 40-degree heat!" Nilmini was the only non-white, but that didn't pose any problem.
Next, Nilmini joined another volunteer group called "Intrepid" and went on a 40-day tour of Indo-China - Cambodia, Vietnam, Laos & Chingmai in Thailand. The trip from Laos to Thailand was done by boat and took two days. She wanted to see the hill tribes who lived in the area around Ching Mai and fortunately, their Guide was from a hill tribe, so he could interpret for the visitors. Chickens and pigs ran through the huts and life was primitive, but the tribes were welcoming.
A new experience came her way on the trek to the last tribal village and that was riding atop an elephant there and back. Finally, to get back to base and join the rest of the group they had the adventure of standing on a precarious bamboo raft tied together with leaves – rafts that were made for just one trip and then cast away. Arriving in Sri Lanka, she co-opted her willing Mum to accompany her as she travelled both on and off the beaten track.
Her journey began with a nostalgic return to her roots, first visiting an uncle and aunt in Negombo and then going on to Minuwangoda to have a look at the ancestral home where her father grew up and which held fond memories for her and her Mum.
Then they set out on what she calls "A journey from East to West and the Puttalam Peninsula."
After visiting a Veddah tribe in Mahiyangama, they went to Batticaloa, where although they were greeted by a board which said, "Welcome to the land of singing fish", to their dismay, none of the locals they met seemed to have any idea of what they were on about! Apparently, the fish no longer sing.
At a place called Senagamuwa, they saw a Muslim settlement of tsunami-affected families who were fisher folk. At Pottuvil, they saw a small colony of dome houses built by the Dutch for a community of Tamil-speaking people who were forced to relocate after the tsunami.
"It's the first time I saw such construction in Sri Lanka," she says. "There were 54 brightly-coloured houses and the high roofs enabled these homes to be self-cooling."
Hambantota, Yala, Arugam Bay, were all on the itinerary. It was a tiring trip, yet Nilmini found that the travel bug seemed to have bitten her Mum too, for it was she who arranged a trip to Jaffna, stopping for the night in Anuradhapura and naturally, visiting all the historic sites in the Holy City.
Nilmini resumed her journeying, on July 21. After a few days break in Dubai she goes to St. Lucia, near Durban, which, she informed me, was the first natural World Heritage Site to take part in a programme to teach conservation awareness. In Namibia, she will join a volunteer group concerned with the conservation of cheetahs. She expects to spend a month camping in the bush in East Africa and a trek to see the gorillas is also on her schedule.
Tanzania, Kenya, Zanzibar, Malawi, Zambia, Cairo, Jordan and the Middle East and finally Turkey feature on her itinerary. From Turkey, she will go to London for a three-day break and then, the last long lap will take her to a place at the very bottom of South America called Ushaia from where her ultimate dream will come true when she catches a boat to Antarctica.
Three weeks in that realm of dreams and she goes to Auckland, New Zealand, before returning at long last to her own sanctuary, her home in Sydney.
Nilmini said: "I didn't put my dreams on the shelf because of my career. I do the things I am passionate about." Perhaps some words from the speech she made at her father's (H.L. de Silva) Commemmoration held at the BMICH last month sums up her credo: "Perhaps my Dad's greatest legacy to me is that his life has inspired me to chase my own dreams and live every day with passion for my life and the work I am engaged in and to be truly thankful to be alive."