Most people in Sri Lanka have experienced the travail of travel by bus. While buses may seem mundane, lacking the romance of railways, many foreign transport enthusiasts, mainly from Britain, find Sri Lankan buses utterly fascinating.
Over several decades, hordes of bus buffs have been visiting the island on bus-spotting and photography tours, amassing vast amounts of information, images, and video footage of the bone-shakers that Lankans take for granted or barely tolerate for the sake of necessity.
Now, for the first time, a detailed history of bus transport in Ceylon/Sri Lanka has been published. Produced by the UK-based Buses Worldwide enthusiasts' group (www.busesworldwide.org) and titled Sri Lankan Buses Past and Present, this informative, picture-packed volume takes readers on a journey from the earliest bus services in Ceylon, through the 'glory days' of such private operators as Sir Cyril de Zoysa's South Western Omnibus Company and others.
An entire chapter is devoted to the Ebert Silva organisation, which survives and thrives as a successful tourist coach operator. Ceylon's trams and trolleybuses – now a hazy memory, even to older Lankans – also get their own chapter.
The nationalisation of private bus companies in 1958 to form the CTB, and the ensuing period of state-run bus operation to 1978, are covered in as much detail as are following chapters on government and private buses from 1979 to 2004; also the buses that were donated by overseas benefactors in 2005 for post-tsunami relief.
'Bus Ride Down Memory Lane' is a guest chapter written by Ceylon-born, Melbourne-resident international magazine editor and transport historian Roger Thiedeman. It is a collection of personal reminiscences of bus travel in Ceylon from Roger.
Double-deckers, single-deckers, buses big, small, and everything in-between, they are all here. And so up-to-date is this book, it even features the 'topless' double-decker that recently began operating Colombo city tours for the Sri Lanka Tourism Development Authority in collaboration with Ebert Silva Holidays.
But even if buses bore you, the book's appeal surely lies in its superb collection of photos. In colour and black-and-white, covering a broad spectrum of eras, they depict buses on the streets of Colombo, Kandy, Negombo, Galle, Jaffna, and many other parts of the island. Suffice it to say that the illustrations alone are worth the price of the publication.
So join the polima, board the bus-eka, hold the polla and issarahata yanna. Then reach for your purse – if it hasn't been pickpocketed in the crush – and shell out your shekels to the conductor for a copy. For anyone interested in anything and everything to do with transport in Sri Lanka, this bus book is just the ticket. Sri Lankan Buses Past and Present will be available soon from Lake House Bookshop. www.lakehousebookshop.com. Price: Rs. 2,760.00; Special price for advance reservations: Rs. 2,484.00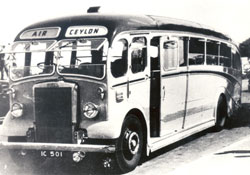 Air Ceylon Leyland Tiger with Duple body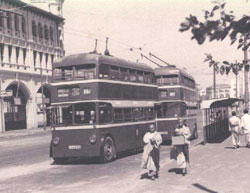 Ceylon trolleybus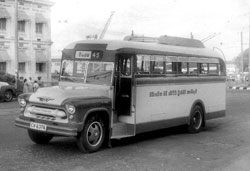 Ceylon Chevrolet