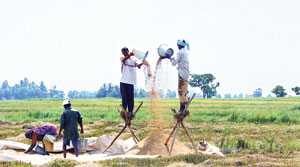 Wheat flour prices have risen due to increased taxes on the presumption that it would reduce the consumption of bread and wheat flour products and enhance rice production and consumption.But is this the real reason or is it just a way of increasing tax revenue to meet a budgetary shortfall?
Justifying the price increase of wheat flour, Prime Minister D.M. Jayaratne recently said that they would take measures to stop wheat imports in a bid to stop bread consumption and replace it with more rice consumption which is better for the health of the people and, to support farmers.
But what is the real story behind the wheat vs rice debate? Do we have enough rice to consume and to meet all our needs, ie. rice plus wheat flour demand/consumption? On the other hand, can we produce the convenient foods made from wheat flour, from rice? Is that possible?
The Business Times sought to find these answers and spoke to a cross section of experts in the business, doctors, scientists and researchers. The nutritional value of rice and wheat was also assessed.
According to Central Bank statistics, in 2009 rice production in the country was 2,483,360 metric tons while another 52,000 tons was imported. Total rice consumption was 2,535,360 metric tons while the wheat flour consumption was 1,025,000 metric tons for the same year. Thus wheat flour consumption in Sri Lanka as against rice consumption is seen as around 40 % of the total amount (rice and wheat together) that is consumed.
Assuming one kilo of wheat flour is equivalent to one kilo of rice in consumption and if the wheat flour imports are curtailed, Sri Lanka will have to produce another 1,025,000 metric tons of rice per annum to meet consumption needs and demands.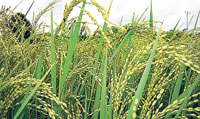 Rice
Rice is an oriental, tropical and cereal food and the staple food of about half the human race being the main source of calories. Brown rice is only husk removed while white rice is husk and bran removed. Starch constitutes the bulk of the rice grain. The protein content of the rice is lower than that of wheat, but is of a superior quality and utilized better by the body than the wheat protein. Brown rice builds health but processing removes many of the valuable B-complex vitamins and some of the minerals.
Wheat
Wheat is a common cereal and a good source of energy used throughout the world. With its essential coating of bran, vitamins and minerals, it is an excellent health-building food.
Wheat has become the principal cereal, widely used for the making of bread than any other cereal because of the quality and quantity of its characteristic protein, called gluten. It is gluten that makes bread dough stick together and gives it the abilityto retain gas, the higher the proportion of gluten in the flour the better for making leavened bread.
Bread and rice contain a certain amount of nutrients that the body needs. Nutrients are essential for the body and the functions of nutrients are: provide energy with carbohydrates, proteins, and lipids (fats and oils); promote growth and development with proteins, lipids, vitamins, minerals and water and provide to regulate body functions with proteins, lipids, vitamins, minerals and water. People depend on nutrients in their diet because the human body is not able to produce many of these nutrients or it cannot produce them in adequate amounts.
Rice imports
Though various statements have been made and action plans introduced about being self sufficient in rice, Sri Lanka has been importing rice in varying quantities over the years to augment possible shortages. In this context an additional 40 % rice producion looks impossible as there are no plans in place to increase production by such a quantity. If wheat imports are to be stopped, the country would have to import this additional 40 percent of rice.
We also looked at issues such as nutrients, whether there are alternatives for rice and bread and the health aspect of them. According to bakers, rising flour prices leads to a drop in bread sales but after few weeks the market settles to its earlier level.
Bread has a distinct edge over rice in convenience in portability and handling. Unlike rice, bread can be consumed immediately after it is purchased – another advantage. Further to consume rice there should be a container as rice constitutes small and separate particles (grains), that does not stick together. Rice and bread have distinct but separate identity in the Sri Lankan palate.
Nutritional value
In terms of nutritional value, research findings are not usually consistent similar to the case of coconut oil where new findings kept altering the old research and conclusions. Medical experts also kept changing their view on the health content of coconut, particularly in the use of coconut oil.
Mahinda Ranasinghe, Managing Director, Finagle Lanka (Pvt) Ltd one of the largest bread makers in Sri Lanka, said that the recent tax increase of Rs 10 per kilo of wheat flour is high compelling bread prices to rise and hurt sales. He said bread consumption has increased but remained more or less static over the years.
He said that Sri Lankans eat more rice and bread and less vegetable, fruits and fish compared to the consumption patterns in other countries where people eat more vegetable, fruits and fish and less rice and bread. He said that they (overseas) also eat more brown bread than white bread.
Asked whether (as a solution to this issue) they would consider adding rice flour in the bread preparation, he said there are no such plans at present and, being a science graduate himself, he is aware that this combination is not possible as the gluten content (essential for bread) is very low in rice flour. Rice flour added to wheat flour to make bread results in the bread turning into rotty-form and soggy.
Subsidy
In May 2004, Ajith Nivard Cabraal, Central Bank Governor (then a UNP politician) said that the subsidy for wheat flour amounting to Rs 3 billion should be stopped and that money should be diverted to rice farmers to produce more rice. He had said that wheat flour prices should be decided by the supply-demand forces in the market and the moment the subsidy is taken off, it is simple matrix that the demand for flour and flour based food would diminish due to high prices and in turn increase the demand for rice and rice-based food.
However, Mr Ranasinghe said that though the wheat flour subsidy has now been removed and more taxes imposed, consumption hasn't fallen sharply. Sri Lankans haven't changed their food patterns despite rising wheat flour prices. He said that there are around 7,000 bakeries in the country and around 20,000 are directly employed in the bread industry. If people stop eating bread that number of people would lose their employment.
Trends in rice marketing
Prof Athula L. T. Perera, Director, Postgraduate Institute (PGIA) Peradeniya told the Business Times there was a lot of research on rice by PGIA students and presented at the Annual Congress of the PGIA.
Research has been carried out in 2007, 2008 and 2009. Last year's research included the effects of rice variety on rice-based composite flour bread quality.
While these numerous research work is on, rice production and marketing in Sri Lanka is taking a different turn with private sector companies involved in rice marketing and production improving the quality of the rice. Cargills – a giant in consumer marketing in Sri Lanka - joined the rice trade around 2004 and is steadily moving up in the rice market chain.
CIC Agri-Business entered the rice market around two years ago. Priyanga Demetawa, General Manager, CIC Agri-Business stationed Pelwehera told the Business Times that earlier there were only Nadu, Samba and raw rice varieties and people used to purchase them in loose form with no quality maintained and often they were full of foreign matter, especially tiny stones.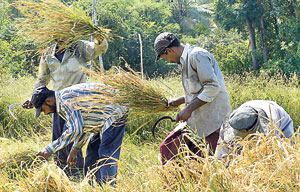 Now CIC develops rice varieties to include the required nutrients and conforming to highest quality standards. The company exports rice to Australia, Middle-East, France and also have begun to export to even the USA. As rice is grown and consumed in many countries, one would assume there would be extensive research on rice, like what is done in Sri Lanka.. But researchers across the world have still been unable to produce bread out of rice flour alone, in the same clean form.
Too much rice makes you sleep
The Industrial Technology Institute (ITI) during its 50th anniversary celebrations in November 2005 said it was doing extensive research on rice and rice-based products. At that time, Dr M.G.M.U. Ismail, then Deputy Director (Research and Development) ITI, indicated that Sri Lankans are very heavy rice eaters just like people in Japan.
He said when Sri Lankans eat too much rice they feel sleepy and the reason is that Sri Lankan rice has less iron. He had said that as a major national project they were working on a highbred rice project to develop varieties of rice with more iron, etc.
Dr (Ms) Shanthie Wilson Wijeratnam, Deputy Director ITI said that 40 % of rice flour could be added to wheat flour to make bread following research concluded by them. She said that rice flour is added to wheat flour only when rice prices are low.
Another aspect of rice and bread is the nutritional value and what importance that it has on the growth and health of the human body. Dr (Ms) Renuka Jayatissa, Head, Nutrition Department, State Medical Research Institute told the Business Times that rice gives energy to maintain life activities, some protein to maintain the body muscle mass and some other vitamins and minerals speciall vitamin B, a small amount of iron, some phosperous and it is the staple food for Sri Lankan diet. Rice has a bigger fibre content than bread, making it healthier.
Health issues
Dr W.S. Santharaj, President, Sri Lanka Heart Association told the Business Times that polished rice and white bread doesn't contain that much fibre, this food is not good for those having diabetes.
He said consumers should be made aware of the implications of eating junk food and large quantities of rice and bread that cause obesity, contributing to heart attacks and stroke, which are on the rise.
Dr (Ms) Padma Gunaratne, President, National Stroke Association of Sri Lanka said that rice has more roughage (fibre) and it is more in the case of brown rice compared to white rice.
Rice has an edge over bread if made out of polished wheat. She also stressed the need to change the food pattern and the importance of creating awareness to the factors that cause strokes. The number of stroke cases is also increasing and is now responsible for the second largest number of hospital deaths.
Dr Mohan Jayatilleke, a reputed cardiologist said that economic prosperity is only possible with a healthy and intelligent nation. Due to globalization and modern living Sri Lankans too have become vulnerable for major illnesses like diabetes and various types of heart ailments.
Among some of the serious diseases, diabetes is at the top of the list. According to Dr. Mahen Wijesuriya, who pioneered the Diabetes Association of Sri Lanka (DASL), Sri Lanka too has a huge diabetes problem. People over 40 years were earlier considered prone to diabetes: then it came down to over 20 years. But latest statistics show that even those above 10 years are prone to diabetes.
Quantities consumed the key
The sum total of the revelations of these experts is that eating rice or bread does not make a great difference but it is the quantity consumed that matters. People consume a lot of rice and bread because it's cheaper compared to vegetables, fruits or fish. Lifestyles and convenience also matter. Bread could be eaten without anything and rice with a little addition of salt and that constitutes the poor man's diet when food prices go up. There are a number of alternatives to bread and rice that people can live on and provide the same nutritional value, but these alternatives are expensive.
Convenience food
Most major food items are made out of flour. Take string hoppers, rotty, godamba rotty, kottu rottty, pittu and the base of pastries which all come from flour whereas nothing solid has been produced in Sri Lanka from rice. A large number of poor people depend on selling string hoppers to hotels and they are often also sold on the roadside. Until the concept of supermarkets became popular Sri Lankans were compelled to purchase their food items in loose form in 'gotta', where cleanliness and quality standards was nobody's concern.
Thus in the past, preparation of rice was a serious and there have even been instances where families split in disputes over bad preparation of rice especially when cooked rice contained stones. It was also common for such other items. Bread at most bakeries and shops is still sold without packing and handled and stored in crude form without conforming to any form of cleanliness or quality.
Bread consumption, though fluctuating in demand, would never reduce drastically as seen by the evidence above. Furthermore when development goes to the provinces and consumers are faced with the same busy schedules like urban consumers, then convenience foods become a reality. That's where wheat flour and bread has no serious competitor until rice proves a good substitute. Until then politicians, researchers and governments need to be more cautious in articulating a ban on wheat flour or reduced consumption through high taxes. That simply doesn't work.
(Senior journalist Bandula Sirimanna also contributed to this story).