A company circular sent out recently to shareholders of crisis-stricken Dankotuwa Porcelain this week informed shareholders of its intention to issue a private placement of 48 million ordinary shares to a consortium consisting of Environmental Resources Investments and Ceylon Leather Products.
This placement has been proposed at Rs. 9 per share amounting to a total infusion of almost Rs. 433.5 million, a move that was earlier announced in a statement issued by the company to bail it out from debts and working capital.
Dankotuwa showcases hotel-ware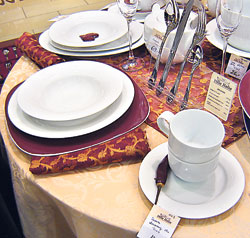 Dankotuwa Porcelain PLC, encouraged by the massive response received for Dankotuwa hotel ware at the 2009 Hotel Show, once again participated at last week's hotel show with more products and more shapes.
The company said Dankotuwa products have several superior features of which chip resistance, scratch resistance and thermal shock resistance are extremely important to the hotel catering and restaurant sector.
"Dankotuwa has established a close rapport with F & B Managers, Chief Stewards and Chefs and have been providing their expert advice on the selection of appropriate shapes and products for the different service requirements. Initially the demand for new shapes was mainly from hotels in and around Colombo, but now there is a significant increase in interest from the rest of the country as well," it said.
Dankotuwa is known world-wide as a producer of difficult fancy shapes, and large items, which most of the other factories would not make.
An amount which has already been earmarked to help with liquidity issues including Rs. 400 million needed for restructuring and replacing old, inefficient machinery as well as expansion of capacity to improve competitiveness, the circular to shareholders said this week.
The private placement will result in the public shareholding of the company being diluted from 56.87% for 13,694,849 ordinary shares to 18.96% for the same number. In addition, the company's equity will shift from Rs. 246.2 million approximately represented by 24,081,914 fully paid ordinary shares to Rs. 649.6 million approximately represented by 72,245,742 fully paid ordinary shares. Control of the company will also follow in favour of the 48 million plus shares to be held by new investors, with new investors given the majority of board seats and four existing directors tipped to resign. It is also indicated that this undertaking would activate "a mandatory offer in terms of the Takeovers and Mergers code of the SEC Act".
The circular further stated that the "new investors have identified that profitability could be achieved by a substantial restructuring which includes replacement of energy inefficient kilns, and expanding capacity among many other initiatives". This comes after the board of Dankotuwa had recently re-negotiated a 3-year deal with the Jathika Sevaka Sangamaya and Sri lanka Nidahas Sevaka Sangamaya labour unions, also a condition set forth by the new investors.
Also indicated in the circular is the board's assertion that this was the sole option available to existing shareholders and that the new investors would not go above Rs. 9/- per share even though a previous professional valuation had identified the value of a share at between Rs. 4.95 and Rs. 11.31.
Also revealed was that two previous rights issues at a price of Rs. 10/- per share in 2006 and 2008 were unsuccessful, with only Rs. 14.6 million or 6.2% raised from the required Rs. 226 million in 2008.