The government is ready to help the hotel industry achieve a target of 600,000 tourists this year, which would help this sector to recover (from the past), generate more employment and foreign exchange, Minister of Economic Development Basil Rajapaksa said last week at the Hotel Show 2010 held in Colombo.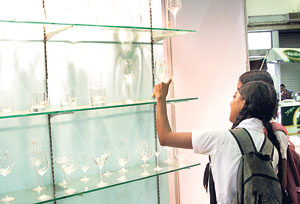 School children check out a display at the event. Pic by J. Weerasekera
The Hotel Show 2010, seen as the first step towards achieving the 2.5 million tourists target by 2016, was held for the sixth time by the Ceylon Hotel School Graduates Association and Lanka Exhibition and Conference Services (Pvt.) Ltd under the guidance of the Ministry of Economic Development. This event is the showcase for hotel supplies and services.
Industry sources said the hospitality and leisure industry is the next wave of development with increasing tourist arrivals to the country. The peaceful environment in the country will provide an impetus for the industry to grow. The Hotel Show is aimed at helping the hoteliers to contact hospitality industry suppliers both foreign and local to source required equipment and services necessary for the upgrading of the hotels to face the oncoming boom, the sources said.
In spite of the challenges in the past the hotel show has grown over the past 12 years. The Hotel Show 2010 showcased products and services including furniture, laundry, kitchen utensils, software and hardware. This show attracted several foreign service suppliers from both Dubai and India. The show comprised over 160 stalls of 83 companies, this year.