Hemas Pharmaceuticals (Pvt) Ltd., in collaboration with the Rotary Club of Colombo Fort recently donated a Dental Unit to President's College, Embilipitiya, formerly known as Embilipitiya Central College. "The new unit will be of great use to the public since this area is known to have many dental hygiene problems due to the high fluoride content in the water," the company said in a statement.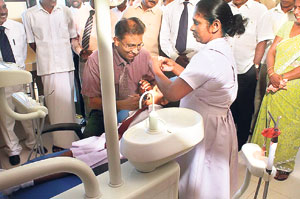 At the event
The new Dental Unit will benefit the school population of 5000 children, their parents, teachers and the neighbouring schools. A doctor and a nurse have been appointed to the unit by the Director of Regional Health in Ratnapura. Their services will be available to the general public once every two weeks, Hemas said.
Managing Director of Hemas Pharmaceuticals Sanjeewa Samaranayake said that being one of the largest pharmaceuticals distribution companies in Sri Lanka, and a key stakeholder in the national healthcare of the country, Hemas is committed to enriching the lives of its customers and society at large. "Considering the oral health issues in the area due to high content of fluoride in the water, we were of the view that such a Dental Unit will be of immense benefit to the children and the general public of this area. We therefore embarked on a project of this nature under our corporate social responsibility program".
Principal of President's College, Embilipitiya Mr. Lionel Wijesinghe expressed his gratitude to Hemas Pharmaceuticals and the Rotary Club of Colombo Fort for taking the initiative to set up the Dental Unit which would benefit the children and society at large.