She was the delicate beauty who first wowed pre-independence Ceylon. The striking Ceylonese face with its winged eyebrows that the likes of Elizabeth Arden created hairstyles for when she made her appearance at Royal Ascot in the '50s. Famously she even dyed her pet poodle 'Cherie' to match her outfits.
Darling of the fashion columnists for her style and daring at a time when straitlaced Colombo society was bound by convention, Yvonne Gulamhusein who died earlier this week will be remembered for her iconic style and fashion sense.
Yvonne at the Governor's Cup

Yvonne in Paris. Pix courtesy Hi!! magazine
Born Yvonne Toussaint, one of four daughters, the young Yvonne literally danced her way into society as a student of Marjorie Sample. Her unerring eye for fashion saw her winning applause as a model and designing her own creations, revelling in reinventing the saree by wearing it with sleeveless blouses (a shocking development in those days).
With her marriage to Onally Gulamhusein she was soon in the jet set, being presented to the Queen, partying with the likes of Prince Aly Khan and being part of Sir John Kotelawela's inner circle as a member of the much vaunted 'Purple Brigade'. Always backed by Onally in all her endeavours, she even learnt to fly, piloting a Tiger Moth with no fear.
Onally and Yvonne lived in their Bambalapitiya mansion 'El Patio Yveony'- a ranch style house with sprawling grounds at the Galle Road/ Station Road junction. In later years, she took to writing on fashion and was a regular columnist for the Sunday Times enjoying her role as a commentator on the scene that she was so much a part of in years gone by, visiting Paris to attend the spring/ summer showings of Dior and Yves St. Laurent and reporting on them with her customary flair.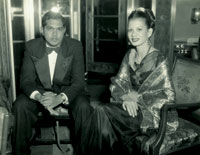 The newly married couple aboard the R.M.S. Queen Elizabeth on their way from England to New York
When I heard that Yvonne Gulamhusein had passed away, I had a sudden vision of Yvonne making a fashion statement on the Colombo racecourse of over half a century ago.
Few there must be who remember the splash that the racing season made every August way back in the 1940s and early '50s.
I, who had never been within kicking distance of a horse, brought up as I was in a family which would have considered going to the races - let alone betting on the horses! -a sure path to hell, was unexpectedly plunged into the thick of it all at age 22 when the great man of Lake House, D.R. Wijewardene, sent for me and said I had to attend the Roberts Cup and the Governor-General's Cup to cover the fashions.
My fashion sense was as lacking as was my knowledge of the sport of kings. But it wasn't mine to ask questions, so, attired in a new saree and with moral support provided by veteran punters, Sooty Banda and Fred de Silva (also of Lake House), I made my debut at the races.
Two names that dominated the fashion scene of that time were those of Yvonne Gulamhusein and Frances Smith and even I had heard of the former. Yvonne's maiden name was Toussaint and if my memory serves me right, she first hit the fashion scene when she won a bathing beauty contest somewhere. The young Yvonne was as slim as they came and her facial expression, - at least on the few occasions on which I saw her - had a suggestion of a pout - she didn't readily smile. Anyway, she continued to be in the news every now and then and more so after she married her handsome prince, Onally Gulamhusein.
By the time I got round to going to the races, she was very much in evidence. She didn't, I thought, have the sweet feminine charm of Frances Smith. Yvonne's style was striking: "Distinctive was the word for the black and red pettitcoat format with the new corsetted hand-span waistline, worn with a black hat enhanced with red flowers."
Yvonne continued to make news and to titillate fashion writers long after I departed from Lake House. She belonged to a coterie of smart women who formed a sort of fan club for Sir John Kotelawala, and were dubbed "The Purple Brigade." The gallant Sir John welcomed them to Kandawela, basked in their smiles and revelled in the attendant publicity. She enjoyed making fashion news and she liked to be the cynosure of all eyes.
There is an old story which may be apocryphal, of how at the ball held at Queen's House for the young Queen Elizabeth and Prince Philip, so many years ago, Yvonne dropped her fan at the right moment when the Prince was near where she stood, and he courteously bent down and picked it up and restored it to her. If true, it would certainly have made her happy.
Yvonne Gulamhusein was a simple person at heart and there was no malice in her. May she rest in peace.