"Inspired by sources both in and around me, my soul's eye paints fleeting illustrations, lasting as long and as steady as clouds in an open sky. These momentary pieces, more often than not, in striking shades of black and white, are soon transformed into work that is visible to the human eye." This is how Rochelle Motha, the artist behind the 32 paintings of "Good Truth" on display on the walls of the Barefoot Gallery, sees her first ever solo art exhibition.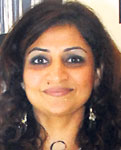 Rochelle Motha
A past student of Good Shepherd Convent Kotahena, Rochelle began taking lessons with Mrs. Gothami Seneviratne when she was 14. She graduated with a degree in Fine Arts from the Srishti School of Art, Design and Technology in Bangalore, India, and is now back in Sri Lanka from the UK.
Rochelle says she is inspired by Van Gogh's use of colour and Rodin's work for the purity of the human form. Sri Lankan people, reading and writing, that she has come into contact with in the recent past, all serve to fuel her art. "The display is all about painful poetry," said Rochelle. "I used typography in my art because I believe that visuals are strong but words are stronger."
"There is ultimately no such thing as good art or bad art-but merely a level of honesty and forthrightness that makes art truly inspirational or at its worst, memorably bad," says the young artist. Her work will be on display until July 25.