Unplanned public roads through Protected Areas without proper environmental assessments and precautions against harm to sensitive ecosystems will be the surest way to destroying natural ecosystems in those areas in the long term. This is a well-established fact.
These were the serious repercussions that the World Bank's Lead Environmental Specialist for the South Asia Region, Dr. Sumith Pilapitiya warned of when the Sunday Times questioned him about the detrimental impact illegal roads being constructed through the Wilpattu National Park would have on nature-based tourism in Sri Lanka.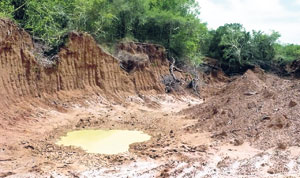 Wilpattu: A scene of destruction
"It may be advisable to reconsider whether it is wise to have public access roads, which could result in major conservation issues, through Protected Areas. If there are only elephants there may be a certain compatibility as there may not be many accidents, even though it is not the ideal situation. But Wilpattu is best known for leopard and bear and continuous vehicles at high speed night and day will have a serious adverse impact on their habitat and breeding pattern which could be detrimental to the long-term survival of the species," he said when pressed to elaborate.
In addition, there is a major threat to the survival of species due to accidents and poaching as access to the National Park on these roads is not controlled, he stressed.
A detailed analysis and evaluation are a must whether such roads have an economic advantage. Then only a firm decision should be taken, explained Dr. Pilapitiya when it was pointed out that such a road seems to benefit a limited number of people living in the western part of Mannar and the northern part of Puttalam. Those in the eastern part of Mannar will obviously use the Medawachchiya Road.
"The current and future economic benefits from the use of the roads must be compared to the income generated from Wilpattu as a protected National Park without fragmentation," he said rationally.
The Sunday Times was interviewing Dr. Pilapitiya on the ambitious and commendable plans of the Department of Wildlife Conservation (DWC) and the Forest Department in coordination with the World Bank to maximize nature-based tourism in Sri Lanka. "We are in the process of finalizing the Ecosystem Conservation and Management Project not only to support the development of nature-based tourism in Protected Areas but also to address conservation issues and bring in measures to mitigate the human-elephant conflict," said Dr. Pilapitiya.
The project to be implemented with US$ 20 million IDA credit with the support of a wholly local team of World Bank staff headed by Dr. Pilapitiya will be submitted for WB Board approval in October, it is understood.
Quoting surveys that indicate that Sri Lanka has very good opportunities for nature-based tourism in Asia, Dr. Pilapitiya said it is the best place to view the Asian elephant in the wild, it has the highest density of leopards per unit area in the world according to data from the Yala National Park and it is one of the few places in the world where the largest land mammal, the elephant, and the largest sea mammal, the whale, can be spotted.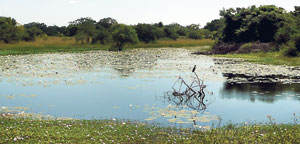 A scene of pristine beauty: For how long?
The biodiversity here as well as the fact that all this can be seen within 4-5 hours of driving makes Sri Lanka unique, he said, adding that before Yala, the Wilpattu National Park had been more famous for leopard and it may be likely that there would be a greater leopard population there.
Based on a few surveys of National Parks, Dr. Pilapitiya revealed that with some basic improvements such as visitation services, the country can earn as much as US$ 6 million per year from the key National Parks under the care of the DWC. "If we are looking at nature-based tourism revenue, Wilpattu will be No. 1 or very close to that."
The Protected Areas under the DWC and Forest Department can generate tremendous revenue, was this World Bank official's view, but must be done giving priority to conservation. The natural resource base should not be depleted or destroyed.
The Sunday Times understands that nature-based tourism being a priority of the government, WB assistance was requested as only about 10% of the international tourists coming to Sri Lanka visit the Protected Areas because they have not been marketed well.
According to data, the average 'sun and sea package' tourist spends only about US$ 35 a day in addition to accommodation, whereas the international tourist who visits the National Parks spends double or more.
Therefore, it is important to encourage nature-based tourism, increasing such visits within the carrying capacity of that particular Protected Area, said Dr. Pilapitiya. The Sunday Times, in a series of articles, has in addition to the fact that public roads or highways through National Parks are illegal also highlighted what is at stake following the construction of the Puttalam-Mannar Road which brutally cuts through Wilpattu.
Road-kills of a large number of wild animals in their own home-ground as well as many other illegal activities are taking place at Wilpattu, the Sunday Times understands. Fruits are being picked illegally and trees destroyed while other illicit kelle business is going on unhindered, it is learnt. The two wide roads and a network of smaller roads, all illegal, built in direct contravention of the Fauna and Flora Protection Ordinance, have destroyed the forest and left large angry swathes of soil like wounds crying for healing.
Make Wilpattu a cultural, historical and ecological experience
Eric Wikramanayake
Just imagine this scenario – two groups on either side of Sri Lanka's international airport at Katunayake find that the closest link-up is through the runway. Would the authorities build a road through the airport for the convenience of this small group of people compromising the convenience of the majority?
This is the question that Dr. Eric Wikramanayake, Senior Conservation Scientist of the World Wildlife Fund posed in response to the issue of two new roads being built through the Wilpattu National Park. Of course not, he answers, for the "purpose" of the airport is very clear.
Stressing that Protected Areas be they Strict Nature Reserves, National Parks or Wildlife Sanctuaries or even Forest Reserves are not and must not be considered "undeveloped land" or "wasteland", Dr. Wikramanayake points out that they have been gazetted for a certain purpose, to conserve the ecosystems and biodiversity. "These are national assets belonging to all citizens and under government stewardship designated to conserve Sri Lanka's biodiversity and ecosystems," he reiterates.
Wilpattu, according to this eminent conservationist, is one of Asia's oldest National Parks bringing to the fore the need to conserve it as a historical environmental monument and ensure that it remains so. It is also an important place in all of Asia where you can actually see wildlife.
Explaining why Wilpattu needs to be conserved and not destroyed, Dr. Wikramanayake says that people all over the world are familiar with this National Park which was known as the best place to see some of Asia's charismatic wildlife species. He smiles as he recalls how at various international meetings not only conservationists but also those who have either visited or read of this stark and pristine National Park with its unique villu ecosystem network reminisce about its wonders.
They welcome its opening, after years of closure due to the conflict. Famous for the leopard, the sloth bear and the elephant, all endangered species worldwide, Wilpattu has huge economic potential as a high-end tourist destination, the Sunday Times understands.
The answer lies in conserving Wilpattu, says Dr. Wikramanayake, adding that Wilpattu should be considered in the context of the larger landscape that includes the Cultural Triangle to the east and the marine environment to the west. Rich tourists could experience the terrestrial biodiversity of Wilpattu, the history and culture in the Cultural Triangle and the seas off Kalpitiya which are becoming popular for its dolphins, whales and coral reefs. "It would be a rich cultural, historical and ecological experience," he says, encompassing a large landscape and seascape.
This widely-travelled wildlife enthusiast also creates visions of Wilpattu's rugged coastline being accessed by ferry or boat by discerning tourists who would pay big money for basic amenities.
"This will be different…….much more exotic and adventurous like some spots in India, Nepal, Africa and South America for those who want the wilderness experience or ambience, without the five-star hotel facilities."
Conservationists are not opposed to development, he says, but development should be planned and carried out rationally, while sustaining ecological services. The public roads through Wilpattu are new developments, a new trace, as against the Old Mannar Road which had gone into disuse long years ago, and as such are illegal.
The impact of these roads are fragmentation, road kills, animals being disturbed, land being alienated with big hotels coming up on either side and break-up of the continuity between land and sea, he explains.
Pointing out that we have lost many an ecosystem as a consequence of unplanned development and such losses would deprive the country of clean water and clean air and many more ecological services that sustain human well-being and economic sustainability, Dr. Wikramanayake urges that development should not compromise our natural heritage and our future well-being.
The endangered leopard, the bear and the elephant are losing ground very fast all over the world. Sri Lanka is one of their last hopes for survival, he says, adding, "We are the stewards of a global heritage and have a responsibility for its conservation."