MV Cordiality, a large ship operated by a Chinese crew was anchored in the seas off Pulmoddai, loading valuable ilmenite, when LTTE Sea Tigers attacked it on September 1997. Six sailors were killed and the ship sank with its cargo close to the shore.
This war victim was forgotten within months, but nature claimed its ownership of the sunken vessel. Corals started growing on its large metal surface and thousands of fish and marine creatures have found the shipwreck a safe haven for the last 13 years. Now however the ship is being salvaged for scrap metal.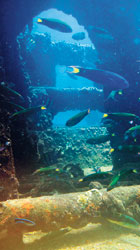 Teaming with marine life: The wreck of MV Cordiality
"The MV Cordiality shipwreck at Pulmoddai has now become a huge artificial coral reef in the ocean, transforming itself into an oasis of marine life," says Darshana Jayawardane, a marine naturalist who went diving near the wreck in May. "One could spend hours just looking at the multitude of exquisite Lionfish, Scorpionfish, Butterflyfish, Juvenile Snappers, Nudibranchs and Fusiliers that swam around the massive hull. The huge towers, pillars and twisted pieces of metal lay around with ilmenite at the bottom, reminding one of a moon landscape," Darshana said.
MV Cordiality could be easily developed as a key destination to attract tourists who travel around the world exploring marine and coastal environments. Dive Tourism or wreck-diving is now becoming a huge business that forms a significant component of the growing global tourism industry. Sri Lanka has real potential to develop high-end Dive Tourism, based on these wrecks, point out marine specialists.
But shipwrecks, especially in the North and East, are being destroyed for their metal. Authorities sometimes claim salvaging is done to clean the shallow waters or because the wrecks are a problem for fishermen who cannot lay their fishing nets due to the underlying wrecks. But what they do not know or consider is the long term value these wrecks can bring to our economy.
The revenue that can be gained by Dive Tourism based on these shipwrecks can be much more than the wreck's scrap metal value. If the average amount of metal that can be salvaged from this shipwreck is estimated as 15,000 metric tons and one kilogram of scrap metal is worth about 20 rupees – salvaging can bring Rs.300 million revenue from MV Cordiality. But the long term gains from marine tourism are much greater and nothing special has to be done compared to the money that is spent on salvage operations. The marine tourism potential of a ship wreck is in fact incremental because it is becomes richer with biodiversity and coral cover day by day.
Sinking ships for tourism
Amal Karunaratna, another enthusiast who dived at MV Cordiality, labels it a world class shipwreck which could attract thousands of divers a year for several decades, earning revenue for dive operators and the hospitality industry in an area that has faced massive privation through the war and the Tsunami. "All we need to do is preserve it – nothing else is needed for this to be a true resource for the local community" he pointed out in his write up about MV Cordiality.
In some other countries, governments purposely sink decommissioned ships to create sites for Wreck Diving.
Despite being a tedious process, sinking ships has been practised by countries like Australia, New Zealand, Kenya, USA and UK, which carefully consider the return of investment it brings. But these ships sunk under a controlled process cannot replace the value of a sunked wreck which has its own place in history. Sri Lanka on the other hand is already blessed with many shipwrecks and has the potential to be a great destinations for wreck diving.
Sri Lanka's star shipwreck that lies off Batticaloa at a depth of 42 metres is the HMS Hermes, the first ship in any navy to be designed and built as an aircraft carrier. This was sunk by a Japanese air attack in April 1942 and placed Sri Lanka among other top Wreck Diving destinations. Tourism sources say about 30 divers will arrive in Sri Lanka to dive at this world famous shipwreck.
Other famous shipwrecks in Sri Lanka of interest to divers include Conch (Hikkaduwa), Earl of Shaftesbury (Hikkaduwa), SS Rangoon (Unawatuna), Colombo Cargo Wreck, Colombo Taprobane East Wreck, Colombo Barge and MV Cordiality (Pulmoddai).
(See http://www.divesrilanka.com and click on the "Shipwrecks" link under the 'information' section for more information about shipwrecks in Sri Lanka)
Sri Lanka also has many ships sunk during the colonial era and a few even prior to that which are of enormous archaeological value. According to Sri Lankan law any ship older than 100 years cannot be salvaged considering its archaeological value.
But sadly even these are not safe from racketeers eying a quick buck. The diving community had to put up a big fight in 2008 to stop the illegal salvaging of such a wreck lying off Hikkaduwa -the Earl of Shaftesbury. This capsized as far back as 1893, but was the target of greedy racketeers and those who were involved in saving the Hikkaduwa wreck received death threats, highlighting the organized nature of the crime and the political backing it recieves. It was the intervention of the President that saved the Earl of Shaftesbury in 2008.
Marine naturalist, Dr. Malik Fernando, who started diving as far back as the 1960s, reckons salvaging wrecks for iron is on the rise. First the dynamite fishermen started dynamiting the ship wreck sites prior to the '80s, as these sites are rich fishing grounds. Then they realized there were valuable metals such as brass, copper and started breaking them up using dynamite. "Then came salvaging ships for their iron," he explained.
Dr. Malik, who has done Wreck Diving in the UK decades ago, says Sri Lanka has true potential to develop to the standards of wreck diving in developed countries.
"Shipwrecks are also spawning ground for fish, so keeping the wrecks intact will increase economic benefits through the fisheries industry," points out a Marine Biologist of National Aquatic Resources Research & Development Agency (NARA), Arjan Rajasuriya, who dives regularly. He says marine pollution together with illegal fishing practices puts huge pressure on fish populations. Quality breeding grounds are necessary for sustainability of the fishery that creates the livelihood of many.
The fisherman already sees a decline of fish harvest and removing shipwrecks will destroy some of the quality fishing grounds being enjoyed at present. "So destroying the wrecks for its metal value is indeed killing the goose that lays golden eggs," says Arjan.
It is believed there are as much as 75 shipwrecks, big and small, around the country. It may be too late for MV Cordiality, but there are also many wrecks in the Northern and Eastern theatres of war and many of them are still unexplored. Should we allow these wrecks be destroyed for short term revenue or protect them to gain much higher economic benefits in the long term? This is in fact, the million dollar question.