Have you ever thought of doing something different? Do you believe you have the right skills to design the next generation of iPods or a 3D version of Counterstrike or be a part of the team creating Avatar 2? We at DSK SUPINFOCOM International Campus will help you achieve this by providing a bench of industry experienced trainers, a modern campus and the latest technological tools to make you a professional designer.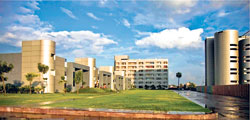 Modern campus
DSK SUPINFOCOM offers its students three unique schools of design, each with its own dedicated staff, resources and industry specific teaching methodology. They are:
DSK ISD (International School of Design)
DSK SUPINFOCOM (Institute of Animation)
DSK SUPINFOGAME (Institute of Video Game Design)
DSK SUPINFOGAME (Institute of Video Game Design)
DSK Supinfogame is the first videogame design school in Southeast Asia. It is dedicated to those who want to become professionals in the gaming industry. The video gaming industry is one of the most profitable and high growth industries globally. According to DFC Intelligence, a premier research company, the video game industry generated USD60 billion in 2009 and is expected to generate over USD70 billion by 2015, making it larger than both the movie and music industry combined. Therefore, the demand for professionals from the video gaming industry is far beyond supply thus giving rise to many opportunities for students in this field.
The game design courses have been developed in consultation with the game designing industry to ensure the institute's students have the best opportunity to meet the needs of the industry.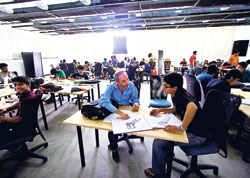 A student discussing the project with a teacher
The game designing course is a 4 year programme with a Foundation stage of 2 years and 2 years in the Advanced stage. Students who have completed A/Ls will have to complete the 4 year programme and students already possessing undergraduate qualifications will need to complete the 2 years of the Advanced stage. During the Foundation stage, students learn the basics of what a game encompasses; they learn to create their own board games and new card games and are trained in using the necessary technological tools. In the Advanced stage they are trained to master, invent and produce any genre of games related to the digital environment. Student assessment is project based and the final year project is judged by an international jury of industry experts. All students graduate with a Level 1 Certificate which is equivalent to a master's degree and is approved by the National Commission for Professional Certificate (CNPC), which works under the direct supervision of the French Prime Minister's office and is globally recognized.
Graduates can find employment as a Game Developer or Publisher, Project Manager, Game Designer, Level Designer or Production Assistant. Supinfogame has strong links to the world's leading gaming companies providing our students a strong 'hands on' practical experience and a 100% placement record. Partnerships and Alumni include Ubisoft, Electronic Arts, Microsoft etc.
The Campus
DSK Supinfocom is located in Pune, India and sits on a 20 acre fully residential state-of-the-art campus. The campus currently has 150 students; 80% of whom are Indian and 20% are Europeans. Each design school has state-of-the-art equipment and technology that provides students the best possible learning experience. Each residential student is provided with their own dorm room with all amenities provided including a 24 hour café, Wifi and recreational facilities.
Modern campus
If you are interested and require more information please contact:
Stallion Holdings (Pvt) Ltd. #100/9, 3rd Floor, Independence Avenue, Colombo 7
Call: Jeggan +94777318255; Arun +94722722742
Email: education@stallionholding.com