Global Environmental Youth Education Foundation is the pioneer in Popularising Indian University education among the Sri Lankan students.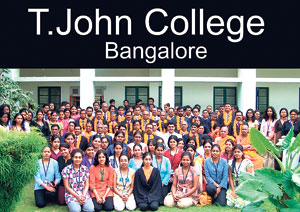 Undergraduates of T. John College with 38 Sri Lankan principals in Bangalore (February 2008). Principals attended a Workshop at T. John College sponsored by T. John College and IAD College as requested by Mr. Galgamuwa
This is the brainchild of its founder and Director General Mr.G.A.W.G.Galgamuwa (Ex Lieutenant VNF ), former Director , Foreign affairs, National Youth Services Council. Not for profit, not for Charity but for Services being his motto. He is a firm believer that an educated Youth is an asset to the family, country and the world. The first batch of students proceeded to Bangalore in the year 1994. Since then over 3200 Sri Lankans have graduated under the guidance of Mr. Galgamuwa
The primary concern of this
programme is;
To compete with the expensive higher education opportunities available in private teaching universities in European countries.
To educate the youth in Sri lanka as they are an asset to the country, providing disciplined graduates, fit to be executives.
T. JOHN GROUP OF INSTITUTIONS - www.tjohncollege.com.
This is one of the best faculties in Bangalore affiliated to University of Bangalore. University Grant Commission in India has endorsed T John College as a high standard graded educational institution in the year 1996 as NAAC B+++ grade for 5years. Now they have reapplied for NAAC grade. Already more than 1250 Sri Lankans have graduated since 1998.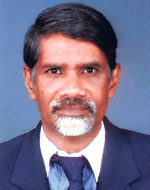 G. A. W. G. Galgamuwa
The Bachelor's and Postgraduate degrees are available in Engineering, Management, Natural Science. Mass Communication, Fashion Designing, B. Pharmacology, Nursing etc……
This year the college / Faculty has offered 50 seats for Sri Lankans. The girls' hostel is Holy Mary Convent managed by the college and the boys' hostel is located in the campus premises .
B.Sc Fashion and Apparel -T John was the first college to get the affiliation to conduct the above degree as it had diploma in Fashion Designing prior to the introduction of the Degree. Already 158 B.Sc. Fashion Apparel Sri Lankan students have graduated. They are working in our Garment Industry, and most of them have gone abroad to prosper in the high profile glamorous world.
Medical Degrees
GEYEF was the first to introduce the Medical degree B.Sc Audiology and Speech Language Pathology to Sri Lankan students. Today four of our graduates are working as lecturers at the Ragama Faculty of Medicine and at the Children's Hospital in Peradeniya. A few have completed Ph.D.\ working in USA , Australia and U.K.
INDIAN ACADEMY - NAAC A Grade College in Bangalore. www.iadcolleg.com . The education at this faculty is really good. This year one of the Sri Lankan graduate from IAd has earned the gold medal in the MSc Molecular batch at the Colombo Campus.
University of Mangalore - Aided colleges. Alvas-www.alvas.org, and Besant College . The admissions at Mangalore University close on June 30. The inauguration of the Association of Sri Lankan Graduates of Indian Universities was a historic event. The Assistant High Commission for India in Sri Lanka in Kandy, His Excellency Mr. Achal .K.Malhotra and the Chairman of the university Grant Commissioner jointly inaugurated the association on June 30 2001 at the Queens Hotel ,Kandy.
GEYEF has 20 years of excellent records with a vision. We don't leave you after admissions. We have formed alumina Associations for each college. We consider our graduates as an asset to developing our country. Membership Drive programme- GEYEF is an NGO mainly to serve the youth in Sri Lanka and abroad. . You too can be a member of this prestige organisation.
GEYEF has a youth membership of 3095 and branches extend to India , Japan , UK . Australia and the Netherlands. For further details please contact Mr.Galgamuwa 0777374588 & Mr. Pabodha - 077238127 or write to Programme Coordinator (GEYEF ) No 81, Wattarantenna Passage , Kandy. Or 466, 2/2, Carlton House, Galle Road, Colombo 3.