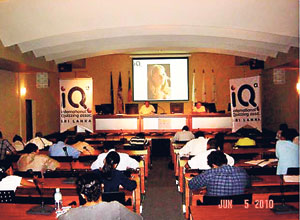 A teacher by profession attached to a higher education institute in Colombo, Haren Fernando became the highest ranked quiz player from Sri Lanka for the second year in succession beating Lathikka Niriella, who was ranked number one in 2008.
The World Quizzing Championships, held for the seventh consecutive year, is an individual Quiz competition, conducted by the International Quizzing Association (IQA), the world's premiere Quiz organization. The quiz consists of 240 questions, to be answered in a maximum allowed time of 120 minutes. Questions are divided over 8 categories of 30 questions each. The eight categories broadly cover areas of history, Media, World, Lifestyle, Entertainment, Culture, Sports, and Sciences. As many as 1207 battled it out for world rankings this year, the highest number of participants at a contest ever, held simultaneously in 34 countries.
The Sri Lankan edition of the 7th World Quizzing Championships was held on Saturday June 5 '10 at the Olympic House auditorium with Varuna Ratnaweera of The Management Club (TMC)-GFH as the adjudicator this year. He was the nominee of Ruwan Senanayake, the Country Representative of International Quizzing Association.
Shehan Fernando and Palith Perera were placed 3rd & 4th respectively in Sri Lanka while Nipunika Wijeyaratne, placed 5th, emerged as the highest ranked female quiz player for the second successive year. Pat Gibson of England beat fellow countryman and 4 times winner Kevin Ashman to emerge the overall winner of the World Quizzing Championships in 2010 while Ronny Swiggers from Belgium came a close 3rd. In the Country Rankings, U.K was ranked first, followed by Belgium and Norway while Sri Lanka was placed 24th in IQA rankings for 2010.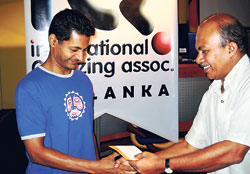 TMC's association with the World Quizzing Event became all the more significant as all four Quizzers who excelled at the Sri Lankan version this year had been part of their Wisdom Quiz events in the past. Lathika Niriella and Haren Fernando were part of the teams that were placed among the winners on all 4 times the TMC Wisdom Quiz was held.
Shehan Fernando led the Dialog team that emerged the best among Mercantile teams at last year's Wisdom Quiz while Nipunika Wijeratne was a member of the People's Bank Quiz team who were joint winners of the Banking Sector in the Wisdom 2007 Quiz. TMC extends its heartiest congratulations to all four of them while wishing them the best of luck in their future endeavours.