ACCA's only Gold institute in the country now set to receive prestigious Platinum status
Mercury Institute of Management, the leader for ACCA since its inception in Sri Lanka, is the first and only real choice for students seeking the ultimate learning experience in ACCA.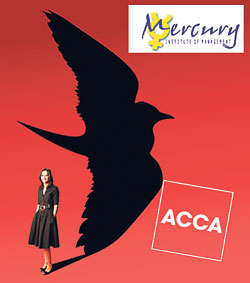 The institute while steadily turning out the best qualified and finest standard world employees and professionals is now recognized as the prime destination for ACCA students not only in Sri-Lanka but elsewhere in the region as well.
Mercury's impeccable infrastructure and sustained standard of delivery has long made it the only gold status tuition provider for ACCA in Sri Lanka - a feat no one else has matched. Widening the gap even further, Mercury is now set to move towards the all-prestigious Platinum status which will place the institute on a world footing - a privilege enjoyed by an exclusive few.
The high standards of excellence that the institute is renowned for, is driven by Mercury's panel of ACCA lecturers - the proven best professionals in all aspects of tuition. Mercury lecturers have every year, produced more Top Score Prize Winners at each examination and World Prize Winners than any other institute in Sri Lanka, creating an unrivalled reputation as the absolute best in the business.
ACCA lecturers at Mercury are led by the programme's most reputed specialist T.P.L. Raj. Raj who holds an FCCA and ACMA, is the Past President of ACCA Sri Lanka for 9 consecutive years and is a Fellow Member of the ACCA council. Rightfully acclaimed as the doyen of ACCA education in Sri Lanka, Raj takes pride in lecturing for over two decades at senior capacity in the field of Taxation and Management Accounting. His innovative teaching methods and personal interaction with the students has motivated them towards huge success and achievement of world prizes for ACCA. His enigmatic presence in ACCA has driven more students to become ACCA professionals and his contribution to the global body for professional accounts has brought him international recognition. With Raj at the helm, student success is guaranteed. Raj is a corporate entrepreneur with an innovative, sustainable business outlook and a pioneer of processing and export of organic products in Sri Lanka.
Ravi Molligoda is an Attorney-at-Law and has been a senior lecturer with Mercury from its inception. Lecturing for paper F4, his excellent coaching and guidance has resulted in impressive pass rates at examinations. A lecturer par excellence for law related subjects, his interaction with students has motivated them towards unparalleled success. Ravi has been the Asst. Gen. Manager at People's Bank. He represented Sri Lanka at the Duke of Edinburgh's Commonwealth Conference in 1980 and is awarded the lifetime Gold medal by the Chartered Bankers' Associate trust in Sri Lanka.
Wazeer Ahmed - a full time lecturer at Mercury has fast gained immeasurable respect and acclaim as one of the finest lecturers for ACCA. With a string of credentials that include ACCA, ASCMA, MAAT, MSLIM, CPM (APMF), Dip.in Met, Chartered Accountant, Chartered Marketer, Wazeer has lectured for Financial subjects of ACCA for the past sessions and has produced highly impressive pass rates. He counts over 9 years of lecturing and with his wide range of work experience as an investment professional has blended his practical experience with his subject delivery. Wazeers's commitment and individual attention to students has placed him as a choice lecturer at ACCA.
Shaan Jayasekera BA (Hons), MBA (Finance), ACIM and CIMA Passed Finalist, is one of the most charismatic lecturers in ACCA. Holding a Bachelor's Degree in Business Accounting and a Master's in Finance from the University of Lincoln UK, Shaan, a full time lecturer at Mercury, has over 7 years of experience with a proven track record and has produced many Sri Lankan Prize Winners for ACCA. He is the Mentor for the Oxford Brooks University Degree Programme.
Also in Mercury's unbeatable ACCA lecture team are Shehan Fernando, George Anthony Fernando, Dilshard Jiffry, Balachandran Prasanna, Janith Gunasiri and Anuk Jayasuriya. With this session's enrolments about to commence at Mercury, ACCA students have an outstanding opportunity to avail themselves of Sri Lanka's finest institute for ACCA and march on to become the world's next generation of high-flying professionals.