Sri Lanka's Country Music Foundation (CMF), a not-for-profit organization raising funds for needy children through music, the Department of Probation and Child Care Services (DPCCS) and Save the Children in Sri Lanka (SCiSL) - in a tripartite agreement earlier this month - launched a three-year project to help a group of needy children.
In probably the biggest single donation in recent times from a dedicated Sri Lanka organization for this programme, the CMF presented a cheque for Rs 500,000 to the DPCCS to support the education of 25 children for three years from May 1, 2010 to April 30, 2013.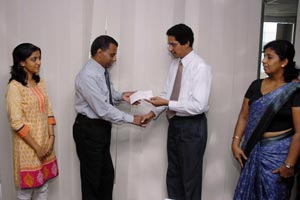 CMF Vice President Jury Majid (right) handing over the cheque to DPCCS National Commissioner D.M.S. Abayagunawardana in the presence of Shamana Rajabdeen (left from SciSL) and Nirmale Tangalla from the DPCCS.
Three children will be selected from each province across Sri Lanka and provided Rs 6,000 per year/per child or Rs. 500 per month for three years to help fund their education. The funding under the Department's Sevana Sarana Foster Parents Scheme was made possible through funds raised by the CMF from its annual concert series - Country Roads 18th- held in February this year.
The Mavericks, among Germany's popular country bands, Astrid and Amelia from the UK, Ranjit Vethakan from Australia together with Sri Lanka's Country Revival Band and Anno Domini were the headline acts at this year's fun-filled country festival and fair on February 20. Every year the CMF holds its annual country music concert to raise funds for children and to-date, since the inaugural concert in 1988, it has raised close to six million rupees in cash and other contributions and donated it to charities like SCiSL and UNICEF for thousands of Sri Lanka children.
The agreement was signed by CMF Founder/ President Feizal Samath, DPCCS National Commissioner D.M.S. Abeygunawardene and SCiSL Country Director Prasanta Kumar Naik.
The Sevana Sarana Fund is an education sponsorship scheme which enables the public to support a vulnerable child for a period of one year and beyond. It supports children who are most marginalized and at risk of being put into an institution.
Launched by the late Prime Minister and President Ranasinghe Premadasa in 1988, the fund is now dependent on private funds while the monitoring and management is handled ( and part financed) by the department, which provides regular reports to donors who are also encouraged to visit these children and help in any other way is need.
Currently over 18,500 vulnerable children across Sri Lanka are supported under this programme supported by 15,000 individuals and institutions. Donors include foreign organizations and families from countries like Australia, Canada, Belgium and France.
Over the past three years, the CMF has worked with SCiSL to support projects involving building libraries, special programmes for children and now education. SCiSL is helping the department to create more awareness about the programme and help more vulnerable children.
Officials from both the DPCCS and SCiSL urged other Sri Lankans and institutions to also financially support this foster parent programme which costs just Rs 6,000 per child per year. Further details could be obtained from Feizal Samath at email: feizalsam@gmail.com or tel: 0777 728590.